Must-See Scientology Shocker: Tom Cruise Speaks Spanish In Newly-Leaked Clip Of Madrid Church Opening –– Also Hugs Controversial Leader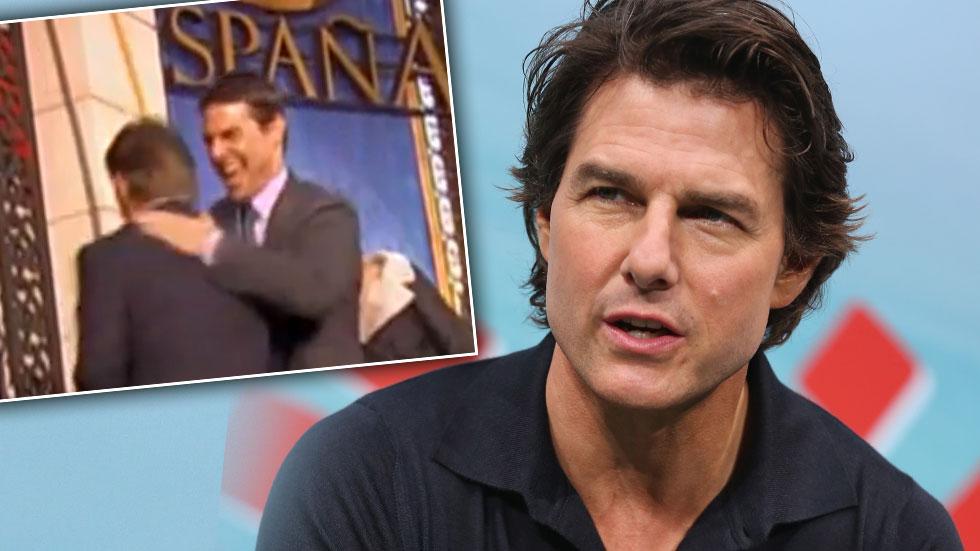 Tom Cruise touts Scientology in Spanish, and hugs the church's leader David Miscavige, in this just-released 2004 clip that was shot in Madrid, Spain.
The A-lister's surprising seven-minute speech -- which was first reported by Tony Ortega's Scientology watchdog blog, The Underground Bunker -- was as part of the church's opening of its Madrid church. (The clip, intended for the church's internal use, was leaked to the site by ex-Scientologist Tiziano Lugli.)
Article continues below advertisement
Watch the video on RadarOnline.com
In the September 18, 2004 speech, the president of the Madrid chapter, Maria Gutierrez, introduces the Top Gun hunk, who energetically springs onto the stage to deliver a speech in which he touted how important people were to him.
"I care deeply about my family and my fellow man," Cruise said, according to a translated transcript of the speech. "In fact, I value that above all else I possess. And that is why the only despair I ever felt was when I could not help.
"I confronted the same problems as everyone else: Conflict, upsets, interpersonal relationships."
Cruise said that those factors prevented him from being happy, which made him seek answers, ultimately leading to his entrance into the church.
"What I found were tools that work; solutions that can be applied and that resolve, in fact, the problems of life," he said. "And above all, it helped me to find peace and happiness."
The Vanilla Sky actor added that what he's had in life -- "as a man, as a father, as an artist ... is the result of being a Scientologist and having these tools."
The Mission: Impossible – Rogue Nation star wrapped up in saying that the church could help its patrons "reach their dreams."