Ex-Scientologists Accuse Church Leader David Miscavige Of Bloody Physical Attacks -- And Making His DOG A Church Officer -- In New Court Filing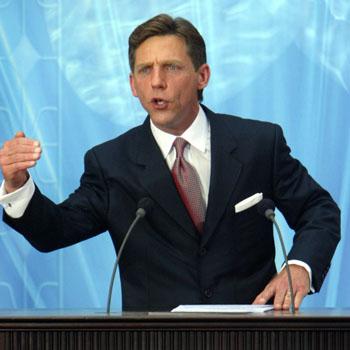 "I have never met a more competent, intelligent, tolerant, compassionate being," Tom Cruise has said of his close friend, Scientology leader David Miscavige.
But does Cruise really know the person who served as his best man at his wedding to Katie Holmes? Fifteen former Scientologists are speaking out about Miscavige in new court documents that claim the Scientology leader is a volatile, aggressive and dangerous individual who sometimes left his underlings bloodied after violent attacks.
Article continues below advertisement
The ex-Scientologists make the allegations in declarations filed on December 3 as part of Monique Rathbun's lawsuit against the church and Miscavige, who she claims launched a systematic campaign of harassment and surveillance against her because her husband, Marty Rathbun, is a formerly high-ranking church leader. And the picture that they paint of Miscavige is a disturbing one.
Miscavige "could and did command all Scientology operations and coordinates" through "micromanagement," former Scientologst John Brousseau claims in the documents, which were first published by former Village Voice columnist Tony Ortega. As such, Brousseau alleges, "Punishment for disobedience of even stated disagreement is severe." Brousseau claims he was sent to a "forced labor camp" twice, but sometimes, other former Scientologists allege, Miscavige exacted his own punishment.
"I witnessed … David Miscavige on a daily basis scream and berate his top lieutenants," former Scientologist Chris Guider claims in the court documents. "In some cases, David Miscavige would strike the person himself or order someone else to."
READ: Ex-Scientologists Make Abuse Claims In Court Documents
"The first example I saw of this was in 1991, when David Miscavige repeatedly struck with his hand and fist Mark Fisher," Guider claims. "…He took this to the point of drawing blood, before he stopped. He continued this type of behavior (physically abusing and severe hazing) for decades …"
Article continues below advertisement
Another ex-Scientologist, Stephen Hall, claims in his declaration that in 2003, Miscavige "grabbed an official, Mark Rinder, and violently smashed his head against a cherrywood wall three time."
Former Scientologist Claire Headley offers similar claims in her declaration. "I witnessed dozens of instances of David Micavige physically assaulting staff members," she alleges. "One such instance was with Jason Bennick in 2011. Bennick had been punched and shoved by Miscavige and had an open wound on his head as a result. I also saw him throttle, shove, punch, grab, smack, and throw staff members on numerous instances."
Miscavige's alleged violent outbursts weren't the only actions that Scientologists claim left them doubting his mental health.
Former Scientologist Amy Scobee says in her declaration that Miscavige once made his dog, Jelley, a Scientology officer!
Miscavige "had captain's epaulets tailored-made for his pet beagle," Scobee claims, "commenting that his dog was more trustworthy than any other Scientology executive …
"He wrote a directive called the 'Jelley Project' after his dog, Jelley," she claims. "The project … was written in such a manner to let CSI's top managers know that he considered his dog, 'Jelley,' to be more productive, compliant, and loyal than any of the existing CSI executives."
---
UPDATE 8:34 a.m. PT — The Church has responded, telling Radar: "These discredited allegations are nothing more than the same tired myths spread for nearly five years by the same tiny clique of anti-Scientologists who remain obsessively bitter at having been expelled for malfeasance from their positions in the Church. Shopped to virtually every media outlet since 2009, these allegations are now being spread yet again to draw attention to a Texas lawsuit that is nothing more than a transparent get-rich scheme the clique hatched."