Greg Brady Broke? 'Brady Bunch' Star Barry Williams Claims He's Bleeding Cash & Low On Funds -- Read The Court Documents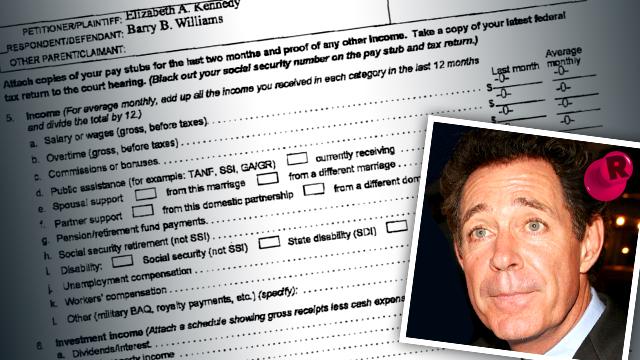 Barry Williams has been a beloved TV icon ever since first appearing on The Brady Bunch in 1969. But more than 50 years later, RadarOnline.com has learned, he claims he's bleeding cash and watching his bank account dwindle!
Williams made the shocking claims on an income and expense report filed as part of his nasty court battle with ex-girlfriend Elizabeth Kennedy, who gave birth to his daughter Samantha in 2012 and claims he has insufficiently supported the child since. Kennedy has alleged Williams is secretly a multimillionaire who has access to an $11 million trust fund, an allegation his camp has called "nonsense."
Article continues below advertisement
Indeed, the newly filed court documents obtained by RadarOnline.com paint a much different picture. According to Williams, he works 70 hours per week as an "entertainer/producer," but makes no income from that profession, and didn't last month either.
He does receive roughly $3,248 in dividends/interest per month, he claims, as well as $2,927 in rental property income.
Overall, Williams says his monthly income, on average is a deficit of $12,542. That's because he claims he pays $350 in medical bills, $1,050 in child support, in addition to other expenses.
In all, he says he has just $19,000 in various bank accounts, $332,000 in stocks and bonds, and $350,000 in other property.
Williams claims Kennedy was just a sexual "playmate" and that she purposely got pregnant when he refused to marry her, a claim she calls "hurtful." She filed the lawsuit demanding he pay support for their daughter and the case is ongoing.