It's Over! Brooks Ayers Wins Messy Lawsuit Over Vicki's Failed Vodka Line — Is Gunvalson Off The Hook Too?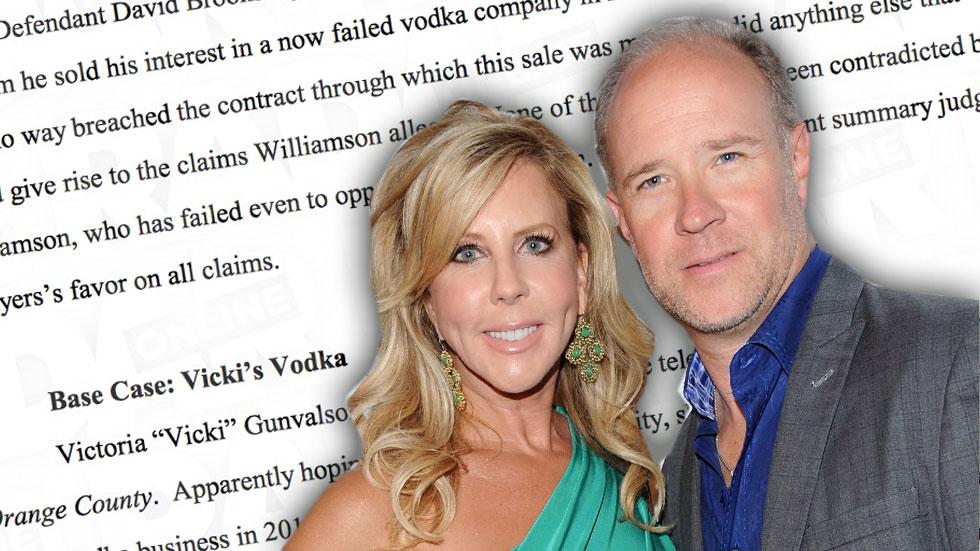 The long legal battle over Vicki Gunvalson's failed vodka line could soon be coming to an end. RadarOnline.com has learned that a judge has dismissed the fraud lawsuit her former Vicki's Vodka partner brought against her boyfriend, Brooks Ayers, declaring he "in no way breached the contract."
As Radar reported, professional poker player Robert Williamson III sued Gunvalson in August 2013, over claims she breached a settlement agreement for another lawsuit over claims she failed to promote the line. The next month, he filed another suit against Ayers, alleging breach of contract, breach of convenient of good faith and fair dealing, misrepresentations, fraud, and omissions, unjust enrichment, civil conspiracy and promissory estoppel.
Article continues below advertisement
But according to court documents obtained by Radar, the judge decided that Ayers presented "evidence that he in no way breached the contract through which this sale was made nor did anything else that would give rise to the claims Williamson alleges. None of this information has been contradicted by Williamson …"
The judge also noted, "There is no admissible evidence to show that Ayers was ever part of" the agreements Williamson made with Gunvalson.
The judge noted Williamson also added claims of defamation, extortion, and intentional infliction of emotional distress in later filings. However the court documents state that while Ayers did know that Williamson had a mistress, Angela Torres, "there is no evidence that Ayers ever used this information to extract money from Williamson or in any way threatened to reveal the details of his affair."
Ultimately, the judge granted a summary judgment in favor of Ayers for every single charge.