Exclusive
Backstage Drama! 'RHOC' Star Vicki Gunvalson Says She Was Pressured Into A Bad Business Deal On The 'Watch What Happens Live' Set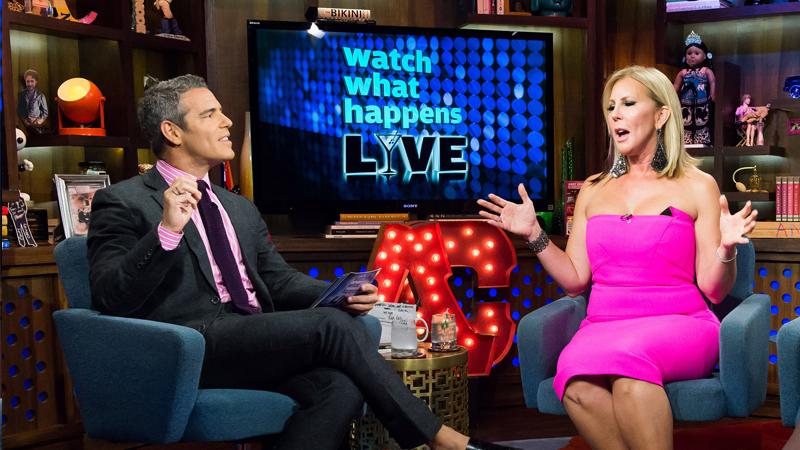 The craziest incident on Andy Cohen's Watch What Happens Live just may have occurred off-camera! RadarOnline.com has learned that Real Housewives of Orange County star Vicki Gunvalson claims that a former business partner convinced her to sign a shady deal on set, by threatening to attack her on-air moments before the cameras started rolling.
Gunvalson, 52, made the accusation against former colleague Robert Williamson in a sworn statement filed as part of her and Williamson's lawsuit involving Vicki's Vodka, the liquor brand they tried to launch two years ago.
Article continues below advertisement
Williamson has asked that the case be dismissed. In the new filing, she alleges that Williamson threatened her in her dressing room backstage before the start of a live broadcast on July 15, 2013, in which they were both to be guests. Williamson placed the document in front of her and said if she didn't sign "he would falsely tell the press that I had defrauded him in the Vicki's Vodka business," Gunvalson said in her affidavit.
Gunvalson says that she began to "fear that R. Williamson would create a scene on the live broadcast of the show and slander me to the media, potentially ruining my opportunity to renew my contract with Bravo."
Even though she signed the settlement and gave him two checks totaling $50,000, Williamson filed a federal lawsuit against Gunvalson weeks later.
Gunvalson says her troubles with Williamson, a professional poker player, began earlier when he "inexplicably confronted me" with false allegations that her boyfriend Brooks Ayers "got the paralegal from his divorce attorney pregnant," threatened the lives of Williamson and his wife, hired a hit man to kill the couple, stole money and "had many sexual diseases."