Shocking Snapshot: Joan Rivers' Doctor Took Pics Of Late Comic While She Was Unconscious –– Legal Docs Reveal Bombshells Inside Operating Room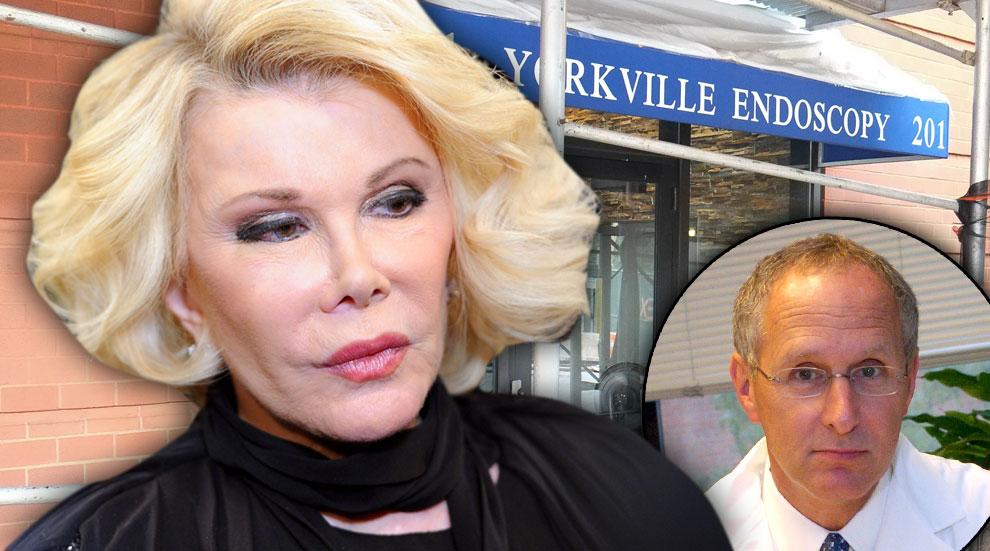 Dr. Lawrence Cohen took pictures of an unconscious Joan Rivers in the operating room before the Aug. 28, 2014 surgery that led to her death, court docs reveal.
The Yorkville Endoscopy doctor's actions were revealed by attorneys in newly-released court docs, citing clinic records, federal reports and findings from the medical examiner, the NY Daily News reported.
The photo revelation marks the latest development in the negligence suit Melissa Rivers filed against Yorkville Endoscopy in the death of her 81-year-old mother, which occurred at Mount Sinai Hospital Sept. 4, just a week after the procedure which saw the Fashion Police star suffer a heart attack before lapsing into a coma.
Article continues below advertisement
Anesthesiologist Dr. Renuka Bankulla made a "clear statement in the medical records that Dr. Cohen took a photograph of Joan Rivers while she was unconscious during the procedure," according to the court docs.
Other staffers at the facility confirmed that Cohen photographed the legendary comic, clinic director Daniel Adler told Melissa Rivers, according to the star's attorneys, Jeffrey Bloom and Ben Rubinowitz.
Cohen has not denied snapping the shots in testimony; his refusal to admit taking the photo on the official record "represents a continuing effort by these defendants to prevent providing meaningful accounting of their respective roles in the tragic death of Joan Rivers," Bloom and Rubinowitz said in legal docs.
Cohen, a gastroenterologist who served as the clinic's medical director, resigned last September shortly after the show biz legend's death.