Exclusive
Does Jared Know? 'Subway Guy' Fogle's Best Friend Russell Taylor Accused Of Secretly Filming Nude Children In Bathroom, Trying To Have Sex With Pal's Horse: Inside The Sickening Allegations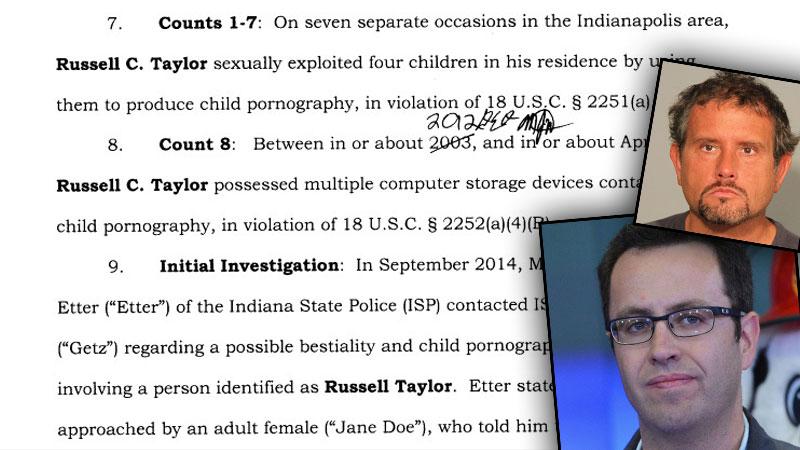 Did Jared Fogle know his best friend's dark side? When authorities searched the longtime Subway spokesman's home last week, fans learned that the move was likely related to his Jared Foundation executive director and close pal Russell Taylor's recent arrest on child pornography charges. And now RadarOnline.com can exclusively reveal the disturbing deeds that led to Taylor's downfall, as described in graphic court papers.
Article continues below advertisement
**WARNING Graphic Content**
According to United States District Court documents obtained by Radar, the 44-year-old Indianapolis resident secretly videotaped minors in the bathroom and possessed other sick pornography featuring children and animals.
READ THE SHOCKING COURT PAPERS
Taylor "sexually exploited four children in his residence by using them to produce child pornography," Detective Darin Odier stated in an affidavit.
During an April 2015 search of the home Taylor shares with his wife, the detective says police discovered "multiple video files of nude or partially nude minor children in bedrooms and a bathroom." The tapes included "the exposed genitals or pubic area of the children," and the minors "did not appear to be aware that they were being filmed."
A state cop visited Taylor's former home, and realized that the bathroom matched the one featured in the videos.
Article continues below advertisement
The victims, Odier claims, were children between the ages of 9-16 who frequently slept at Taylor's residence and were familiar with his home.
During an interview with cops, Taylor confessed to placing cameras in bedrooms and "in various rooms throughout the house."
The accused pervert defended his actions by claiming he and his wife wanted to determine if one of the children was having sex with a boyfriend.
Cops also discovered a "commercially made" pornographic video of a young naked girl in high heels.
Taylor's sexual interests also extended to defenseless animals, police say. In September 2014, an anonymous adult woman, called Jane Doe in the papers, approached Indiana state police about twisted text messages Taylor had allegedly sent her.
"Jane Doe stated Russell Taylor asked her if he and another adult female she identified could come to Jane Doe's residence and engage in sexual activity with a horse," the documents state. Doe, who boards horses on her property, insisted that the requests were not in jest, and that she did not comply with his request.
Article continues below advertisement
Another time, Doe told the state trooper that Taylor sent her an image "that depicted a dog licking the nude genital area of an adult female."
Taylor was arrested in May, and is currently in federal custody awaiting an indictment. He reportedly attempted suicide two days after his arrest.
Fogle, 37, distanced himself from Taylor after the scandal. But an unidentified woman allegedly called the FBI after Fogle made inappropriate comments about middle school-aged girls.