'The Pain Is Always Going To Be There' –– Emotional Tracy Morgan Breaks Silence Over Deadly Crash On 'TODAY' Show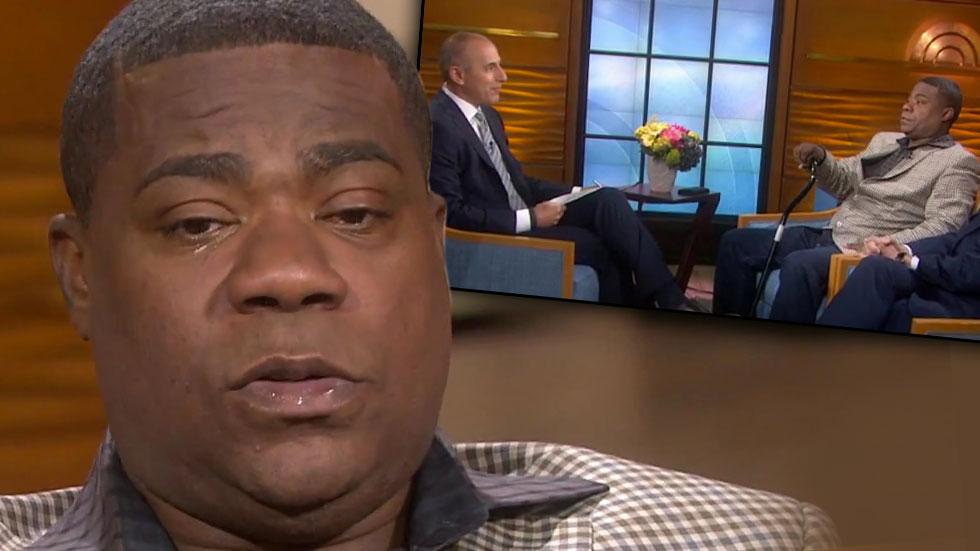 An emotional Tracy Morgan broke his silence on The TODAY show Monday, speaking for the first time since a deadly accident on the New Jersey Turnpike in June 2014.
The 46-year-old actor was soft-spoken as he chat with host Matt Lauer about the aftermath of the Jun. 7, 2014 accident.
Saying he's been "up and down" in the year since the crash, Morgan teared up as he paid homage to his pal James "Jimmy Mack" McNair, his friend who was killed in his limo, following a collision with a trucker for Wal-Mart.
Article continues below advertisement
"The pain is always going to be there for Jimmy Mack," he said. "He was a loving man, a warm man, he was a good man. He's gone. That's it."
The 30 Rock actor said he "lost it for about a week" after watching a video of his friend's funeral on YouTube -- the site on which he also watched clips from the crash, as he had no personal memories of the life-changing incident.
"I don't remember the accident, I just remember when I came to," said Morgan, who had head injuries, and breaks to his legs and ribs in the wake of the crash. "Every day I would just watch the accident on YouTube ... I had to know what happened to my friend."
Watch the video on RadarOnline.com
Morgan, who recently settled an ongoing lawsuit against Wal-Mart, said he was "happy" that the retail giant "stepped up to the plate in a tremendous way," not only for himself, but "for Jimmy Mack's family" as well.
Morgan said he's relieved he didn't have his infant daughter with him in the limo at the time of the accident.
"When I look at that accident -- my daughter was 10 months old -- she wouldn't have made it," he said.
Article continues below advertisement
The former Saturday Night Live star admitted he's had issues with his memory in the wake of the crash.
"I have my good days and my bad days, where I forget things," he said. "There are times where I get the headaches and the nosebleeds, and I won't even let my lady know because I don't want her to be worried about it."
A teary Morgan said he wants to resume his career in comedy after he fully heals from his injuries.
"I love comedy, I'll never stop loving her, and I can't wait to get back to her, but right now, my goal is just to heal and get better," he said. "Because I'm not 100 percent yet. I'm not. And when I'm there, you'll know it. I'll get back to making you laugh. I promise you."