Exclusive
Driver Fears Wal-Mart Will Attack Him In Tracy Morgan Lawsuit Potentially Massive Punitive Liability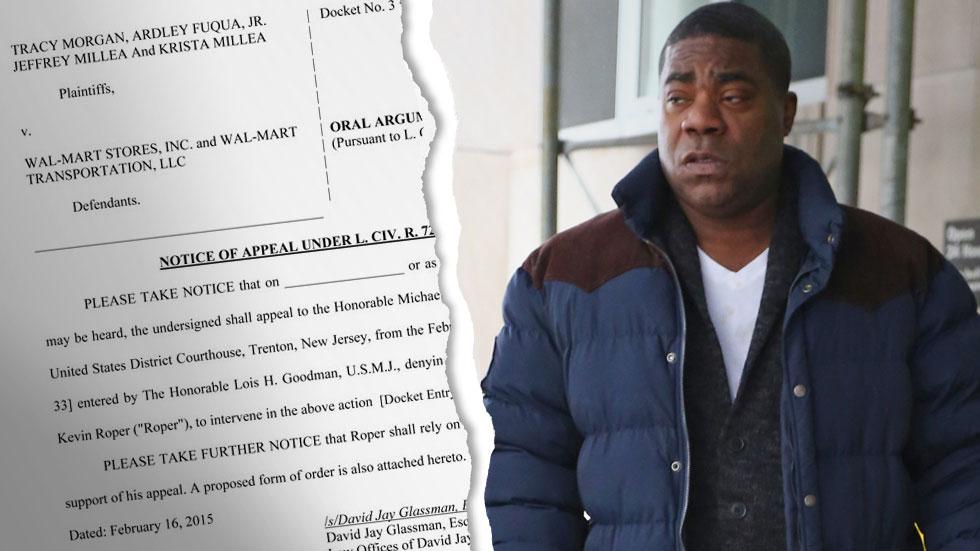 The truck driver blamed for the crash that critically injured comedian Tracy Morgan and killed his friend renewed his request to delay a lawsuit against Wal-Mart until his criminal case is done, according to court documents obtained by RadarOnline.com.
Lawyers for Kevin Roper argue that media coverage of the federal lawsuit against Wal-Mart "would impose a serious burden on Roper's Fifth Amendment privilege" and "would unfairly infringe on Roper's right to an impartial jury."
Article continues below advertisement
They also claim that "ongoing discovery and admissions made in this case will harm Roper's ability to mount a defense, should his criminal case go to trial."
As Radar reported in December, a federal judge denied Roper's earlier request to intervene, saying the Georgia man had not provided enough evidence to show he would be harmed by the revelations of the lawsuit, which does not name him as a defendant. Roper's lawyers said in an argument filed Monday that the magistrate judge made a mistake with his decision and it should be reconsidered.
His attorneys also predict that Wal-Mart might throw Roper under the bus in their own defense. "Wal-Mart, who is faced with potentially massive punitive liability for its alleged 'pattern and practice' of violating federal motor carrier regulations, would best serve its own interests by portraying Roper as a 'sole-offender,' which could have a ruinous effect in Roper's criminal case."
Article continues below advertisement
Roper could be forced to waive his right against self-incrimination and testify in his defense, they argue. "The overlap between the criminal and civil matters is unavoidable, and as described herein, the prejudice to Roper should this case continue will be substantial and irreparable."
"Any such admissions, investigation results or discovery in this case will inevitably be reported by national media outlets, and a brief stay would altogether halt the release of any such information and would greatly lessen the potential harm to Roper's pending criminal defense case," Roper's filing contends.
Lawyers for 46-year-old Morgan argue the driver's request for a delay is a tactic to help Wal-Mart so the retailer wouldn't have to show their substandard safety practices to the public. Morgan's lawsuit claims Roper had been awake for more than 24 hours and on the road for more than 10 before the crash on the New Jersey turnpike.
Morgan, who suffered a broken leg, femur, nose and several broken ribs, was unable to attend last Sunday's Saturday Night Live 40th Reunion because of his condition.