Judge Denies Walmart Driver's Plea To Suspend Tracy Morgan Lawsuit Until Criminal Case Is Over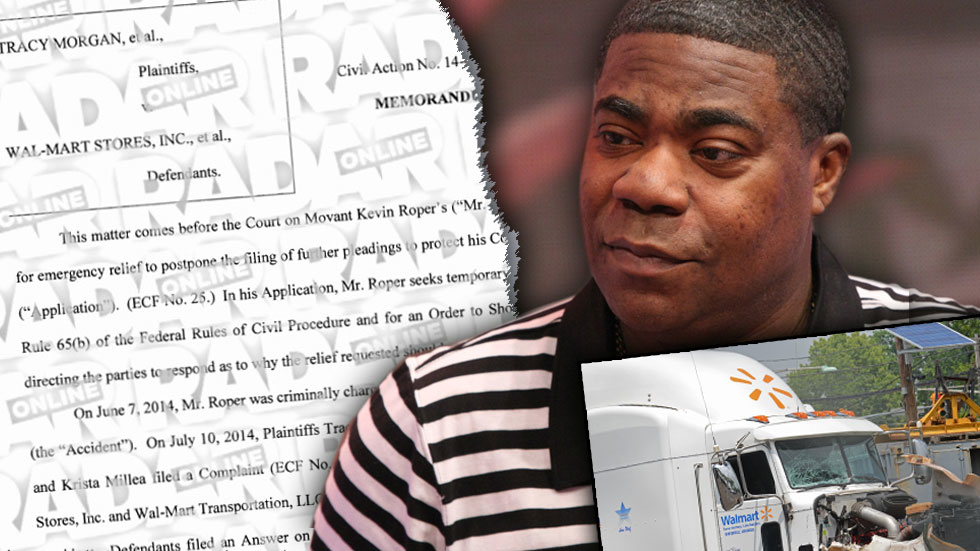 Tracy Morgan has claimed a recent legal victory in his legal battle against Walmart.
A judge ruled the comic's lawsuit against the company could advance after Kevin Roper, the truck driver who barreled into his limo on the New Jersey Turnpike this past June, asked the court to delay the case.
U.S. District Judge Michael Shipp denied the request Dec. 12, after Georgia native Roper asked the court to stall the Saturday Night Live alum's suit against the corporation until after his criminal case in the incident had concluded. Shipp said there was a lack of evidence on Roper's part.
Article continues below advertisement
Roper's lawyer David Glassman said a civil case, before the fact, would impact the results of his client's criminal case.
Read the docs on RadarOnline.com
The 45-year-old actor's legal team said Roper's request was a tactic Walmart was using to delay the proceedings, so they wouldn't have to show their safety practices to the public, as Morgan's team said Roper had been awake for more than 24 hours, and on the road for more than 10.
The retailer had previously denied the stalling accusations, and said that Morgan's injuries came in large part to the fact that he hadn't had a seatbelt on.
The crash occurred when the 30 Rock actor was coming back from from a Delaware show with three other comics, including James McNair, who died as result of the pileup.
The National Transportation Safety Board, in the early results of their investigation, said the truck driver was driving at 65 mph — 20 mph over the speed limit due to the construction conditions at the time.