Exclusive
Sorry Not Sorry! Kathy Griffin Fires Back At Melissa Rivers 'Fashion Police' Criticism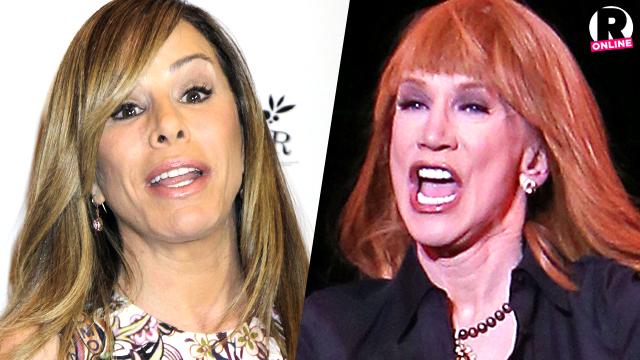 Melissa Rivers recently backtracked on her nasty comments made toward longtime friend Kathy Griffin by saying in a recent interview that Fashion Police "came back too fast" following her mother, Joan Rivers, sudden death on Sept. 4, 2014 from complications during a routine medical procedure.
However, a source close to the 54-year-old fiery red-headed comedienne tells RadarOnline.comexclusively that "Kathy is still legitimately pissed off and upset by Melissa River's words."
Article continues below advertisement
After Griffin quit E!'s ill-fated show on March 12, Rivers, 47, told Hoda Kotb, "She sh*t all over my mother's legacy. I'm just gonna say it wasn't a match on a lot of levels."
However, that is not how Griffin sees it, as the source says, "Kathy feels that she was not left with any other option and to stay on the show would disgrace Joan's legacy more than leaving it ever could."
"She doesn't think it was fair or professional of her to go and put Kathy on blast like that and that she was just trying to get some hype for the show."
As RadarOnline.com previously reported, Griffin was the second panelist to leave the show in March after co-host Kelly Osbourne quit when she was allegedly framed by Giuliana Rancic over the racist remarks that Rancic made about Zendaya, saying that her hair smelled of "patchouli oil."
"Melissa knows that the show is doomed," the insider tells RadarOnline.com.
"Kathy thinks that she should really just respect Joan's legacy by letting it go."
Do you think that Kathy Griffin is right and that Melissa Rivers should just let Fashion Police go? Tell us your thoughts in the comments below.