Good Riddance! Kathy Griffin Vows To Never Speak To Giuliana Rancic Again After 'Fashion Police' Debacle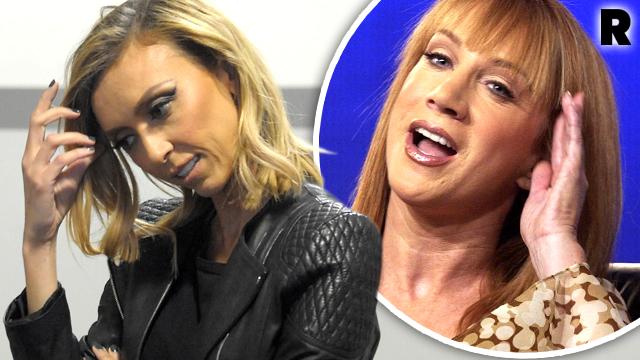 Kathy Griffin's surprise departure from Fashion Police was not exactly a fond farewell — at least as far as Giuliana Rancic is concerned. RadarOnline.com has exclusively learned that not only has Griffin not said goodbye to her controversial co-host, but she's telling friends she's "done with Giuliana" and has no plans to speak to her ever again!
"Kathy is done with the drama and she is done with Giuliana," an insider told Radar. "Kathy has not spoken to Giuliana and she has no intentions of ever speaking to her again, unless she has to."
Article continues below advertisement
The duo's feud dates had simmered for weeks, but it exploded after the post-Oscars Fashion Police telecast, in which Rancic said singer Zendaya Coleman's dreadlocks "smelled like patchouli oil…. or weed."
Because some viewers claimed Griffin was the first one to say the word "weed" prior to Rancic repeating it, "Giuliana tried blaming Kathy and said that it was actually her fault, but later changed her tune to say it was the writer's fault," the source claims. "Kathy did not appreciate being blamed and Giuliana showed her true colors by trying to throw her under the bus."
According to the insider, "Giuliana later apologized to Kathy… because her career was at stake and she knew that she had to."
"But the apology was too late. Giuliana didn't take responsibility for her actions."
Now, the source said, Griffin is ready to put it all behind her, and she did just that with an epic resignation letter posted on Twitter Thursday. "Kathy's words on Twitter are the last that she wants to discuss this," said the source. "She has already moved on."
The ill-fated show will go on, however — at least for the time being. E! released a statement after Griffin's departure that said the show will be back on the air on March 30. According to sources, they have not decided on replacements for Kelly Osbourne, or for Griffin.
Watch: Giuliana Rancic Apologizes To Zendaya Over Dreadlocks Diss