Fighting The Backlash With Family: Josh Breaks Silence While Jim Bob & Michelle Celebrate His Son's 4th Birthday –– As Damaging Molestation Scandal Rages On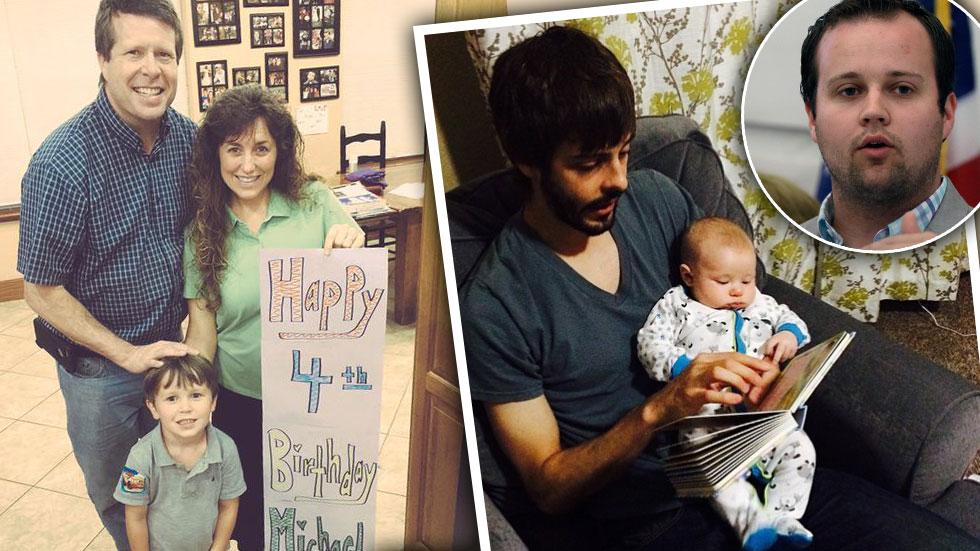 As Josh Duggar's scandal grows, the Duggars did damage control in showing off their family-minded ways on social media, including two posts featuring Josh's son Michael.
Josh himself broke his social media silence, writing, "Happy 4th Birthday Michael James! #Big4 #HappyBirthday #Michael."
In another post, Jim Bob and Michelle -- just weeks removed from their disastrous Fox News interview with Megyn Kelly -- stood with Josh's oldest son Michael, writing, "Happy 4th Birthday to our first grandson, Michael!"
Article continues below advertisement
https://instagram.com/p/3-UCZzOWEu/?taken-by=joshduggar
The birthday celebration marked the first post from the family's Twitter account since May 19 -- just before the story exploded of Josh's molestation of five underage girls when he was 14.
Elsewhere, Josh's brother-in-law Derick Dillard was seen in an Instagram post reading religious to his infant 2-month-old son, Israel.
Jill Duggar wrote in the touching snapshot, "#bibletime with papa @derick4him #IsraelDavidDillard."
https://instagram.com/p/3-d_xfrsxN/
As RadarOnline.com previously reported, the Duggars, as of late, have used social media to show they're the devout, family-minded bunch America made into huge reality stars, with Jill and Jessa -- both of whom also sat down with Fox to try to quell the backlash -- leading the way, and even the quiet Jana getting in on the act.
Josh, for the most part, has stayed out of the limelight since the scandal broke, as he moving vans were spotted at his Maryland home last week. At the forefront of the scandal, Josh admitted he'd "acted inexcusably" and resigned from his Family Research Council job.
In the latest developments, Joseph Uber, a convicted pedophile, filed a court complaint alleging that he'd been framed for "a sex crime of a minor" that Josh committed and framed him for, adding that he has DNA evidence to back up his claims.