'She Really Is Harsh!': Bethenny Frankel Brought To Tears After Heather Thomson Questions Her Behavior On Explosive 'RHONY'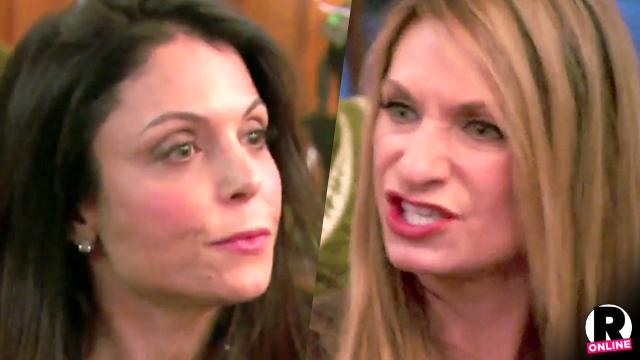 On this week's episode of 'Real Housewives of New York,' Heather Thomson confronted Bethenny Frankel for her "harsh" behavior during Dorinda Medley's birthday party.
Frankel was brought to tears when Thomson fired at her for her attitude during Medley's 50th birthday blowout in the Berkshires.
The tension between the housewives began before the Skinnygirl mogul even arrived, as the women discussed Frankel's inability to form healthy relationships with girlfriends.
Article continues below advertisement
LuAnn de Lesseps said of Frankel, "She has had to scratch her way through life and she did not have a good childhood … that's why she's a tough person."
As all of the women came to Frankel's defense as well, Thomson argued, "Oh please, a lot of people survive and are very successful and have no relationships with their mother."
Thomson added in her confessional, "I think this crowd is scared of Bethenny, I don't know why they cut her so much slack -- we all have problems."
As the women arrived to the dinner party, dressed to the nines with Saki in hand, Frankel surprised everyone by attending the bash. But the reality stars couldn't even make it through the appetizers before things went awry.
When Medley's boyfriend John Mahdessian announced that the group would be treated to gourmet sushi, Frankel explained that she only eats shellfish.
"She's allergic to fish with fins," Thomson quipped before trying to offer Frankel other food options.
Article continues below advertisement
After Frankel refused to accept her help, Thomson whispered to Carole Radziwill, "She won't let me help so she can eat nothing. On one hand I'm, like, feeling bad for her … and on the hand she's just f**king mean.
"She really is harsh!"
Frankel replied, "I don't want therapy, I don't want to be helped. Just leave me the f**k alone."
As the housewives tried to "roast" Ramona Singer's date Peter after they read on RadarOnline.com that he was involved with Mario Singer's mistress Kasey Dexter, Frankel and Sonja Morgan interrupted the conversation.
"I may have to separate you two," Thomson joked as Frankel fired, "There are 20 people at this table. We're allowed to have a conversation."
"I'm actually making a joke," Thomson responded. "You're very serious. You really got to lighten up. Every time I say something nice to you you're like, 'Oh my God!'"
When Frankel explained that she feels Thomson is always trying to attend to her, Thomson yelled, "I can tell you what I want to f**king tell you. Don't tell me how to talk. Don't tell me what to do."
Article continues below advertisement
"Okay just get off me," Frankel said. "I don't want attention. I just want to breathe."
As Thomson urged Frankel to explain why she doesn't want to accept help, the Bravo star said opening up about her past would cause her to be on the floor "sobbing."
Even Thomson's attempts to take Frankel to the side to work out their relationship failed.
"I don't want to walk away," Frankel said. "I'm not trying to f**k with you."
Watch the video on RadarOnline.com
On last week's episode, Singer and de Lesseps accused each other of trashing Medley's boyfriend.
As Singer was filling Kristen Taekman in on the fight, Medley walked into the room and demanded to know why her name was mentioned. While Singer explained the feud, Taekman brought up how her boyfriend was too "touchy-feely" while dancing with her at an event earlier in the season.
Article continues below advertisement
"But you were with him too Kristen. You were right there shimmying with him," Medley said. "You're a married woman. Your husband was there. I think it's inappropriate you did that in front of your husband!"
She added, "I was embarrassed. I was embarrassed for you and I was embarrassed for myself. You made me look like an a**! Don't do that sh*t!"
Taekman explained that she was dancing behind him while Morgan was dancing in the front.
"Then he says, 'Let's turn around,' and I didn't feel comfortable dancing in the front of him," Taekman said. "The whole thing was awkward at that point and I walked away."
Fed up with everyone bashing her boyfriend, Medley broke down when she explained that he helped her cope with her late husband Richard's death.
"What people don't see is John is so kind," she said. "We sat here many, many nights. This is a guy who allowed me to cry over Richard and John would cry with me.
"These last couple of years would have been a lot harder without him."
The Real Housewives of New York airs Tuesdays at 9/8c on Bravo.