Dorinda Medley Attacks Kristen Taekman For 'Shimmying' With Her Boyfriend Plus RHONY Ladies Caught Reading Radar!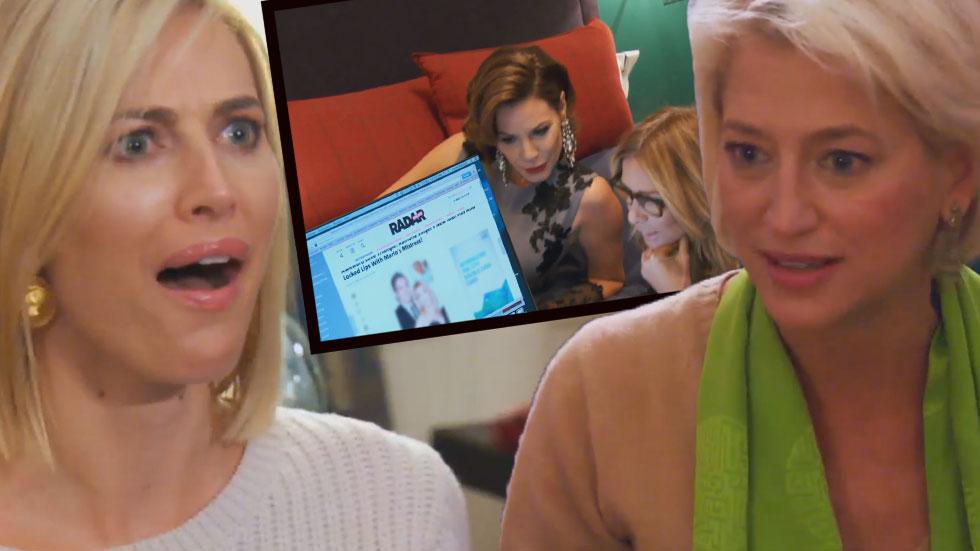 Can the RHONY women ever find a good man? As Ramona Singer recovers from her divorce from cheating hubby Mario, Dorinda Medley is now the one in the hot seat thanks to her boyfriend John Mahdessian's firtatious ways. But instead of taking him to task, Medley turns on her fellow housewives for cozying up to him in an explosive new sneak peek clip obtained by RadarOnline.com!
In a preview for the upcoming episode of Real Housewives of New York City, what was supposed to be a delightful weekend in the Berkshires to celebrate Medley's birthday, quickly turns into a screaming fest as Medley targets Kristen Taekman for dancing with Mahdessian at a recent party.
Article continues below advertisement
"You were with him as well, Kristen!" Medley screams at Taekman. "You were right up there shimmying with him."
"I was embarrassed for you, and I was embarrassed for myself," she says to her stunned costar. "Don't do that s***!"
Medley and Taekman aren't the only ones fighting in the group, however. Ramona Singer and Countess LuAnn de Lesseps are clearly still at odds and in one revealing scene, she decides to turn to RadarOnline.com to find ammunition against her frenemy!
With Carole Radziwill by her side, de Lesseps pores over RadarOnline.com, transfixed by a juicy story about about Singer's jaded love life.
"Awkward love triangle!" de Lesseps reads from RadarOnline.com's article. "Ramona Singer's new man also locked lips with Mario's mistress."
But the drama doesn't end there: Bethenny Frankel surprises the group in the midst of the war.
"We're in Knot's Landing," Frankel says of the chaos she walks into. "I have no idea what's going on."
Article continues below advertisement
And it's not long before Frankel is encompassed in her own continuing battle with Heather Thomson, who has been prying into Frankel's personal life lately.
"I don't want attention," Frankel tells Thomson.
"But that makes it sound like I'm suffocating you," Thomson replies.
Frankel's not finished yet.
"If I get into it, I will be laying on this floor sobbing," Frankel states heatedly. "I just want the wall up!"
Tune into Bravo on Tuesday at 9 PM EST to find out how all of the drama unfolds — and stay tuned to RadarOnline.com like the RHONY ladies for more can't-miss gossip!