Dissed! Mel B Not Invited To Victoria Beckham's Birthday Bash For David & Spice Girls Reunion -- Why They're 'Not Close'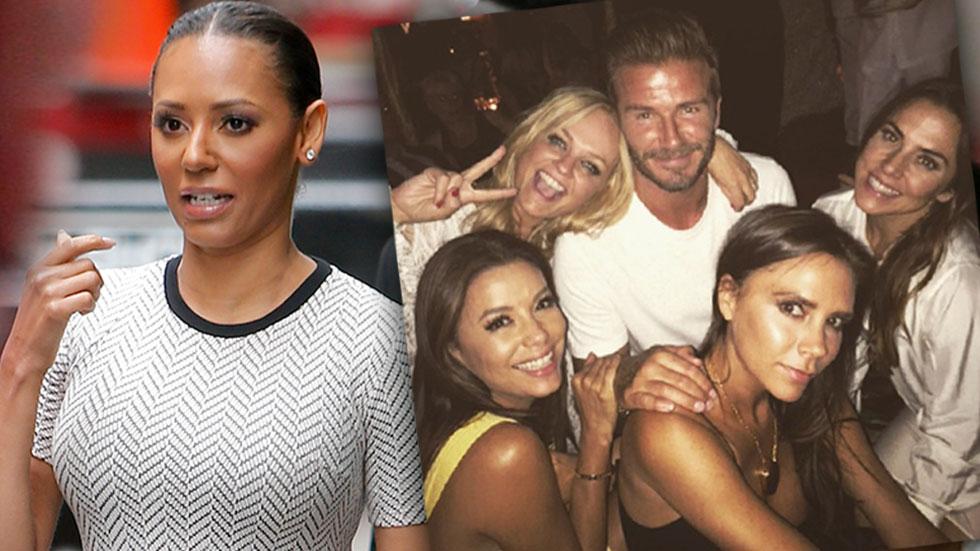 Not so nice, Posh Spice! Mel B was conspicuously absent from a Spice Girls reunion photo Victoria Beckham posted over the weekend, and RadarOnline.com has exclusively learned that the woman formerly known as Scary Spice was not invited to the party!
Victoria didn't invite her former bandmate to husband David's 40th birthday party in Marrakech, Morroco, but did include the three other band members from the popular 90's group, as well as pal Eva Longoria, a source told Radar.
Article continues below advertisement
Is there a secret feud brewing?
A source close to the situation tell Radar, "There isn't a rift between Vicky and Mel, they just aren't close. They don't hang out together when Vicky and David are in Los Angeles. Mel and Vicky just weren't ever close friends."
Melanie Chilsom, Emma Bunton, Geri Halliwell, Victoria and Longoria posed for a picture, with the former Desperate Housewives star stating in an Instagram picture, "I'm the new Spice Girl! #LatinaSpice @victoriabeckham @emmabunton @MelanieCmusic @gerihalliwell."
Posh Spice added, " Spice Girls in Marrakech! #DB40 x vb."
The birthday boy thanked his wife for the bash, "Thanks to my beautiful wife for such an amazing day x," in an Instagram pic of the couple.
The last time the Spice Girls performed together was in 2012 for the London Olympics and Queen Elizabeth's Jubilee. ​There have been rumors the group could reunite again soon.
Do you want to see the Spice Girls together again? Let us know in the comments!