Shocking Accusation: Kenya Moore Claims Phaedra Parks Got Boob Job Before Apollo Nida Went To Prison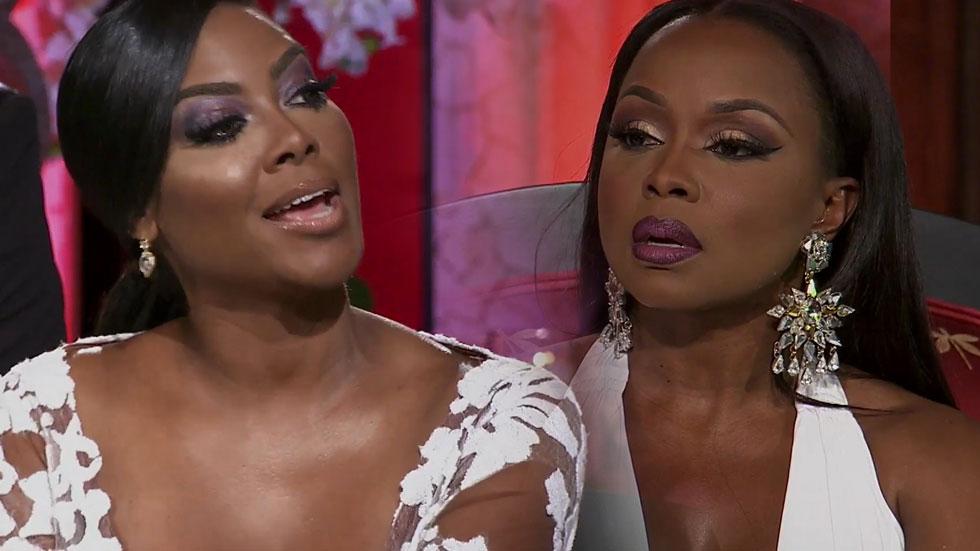 Kenya Moore dropped a bomb on Phaedra Parks on the Real Housewives of Atlanta's reunion show Sunday, claiming the attorney got a boob job before her husband went to jail.
On part two of the Bravo reunion that aired Sunday night, Moore and Parks got into a bitter back-and-forth that proved their feud is not over, despite on-camera scenes of them mending fences this season.
Moore sarcastically said about Parks -- who has moaned about the stress of dealing with Nida's legal mess -- "You're looking at a woman who's so distraught and so down and out -- and you have the time to go and get your boobs done in the middle of your husband going away to prison!"
Article continues below advertisement
When asked by host Andy Cohen if she'd gotten her boobs done when Nida went to prison, Parks said, "No, I did not."
Moore interjected, "She got them done BEFORE he went to prison was my point."
Parks replied scathingly, "Oh, so are you in the boob business now? How do you know what I've had done?"
Moore said, "A blind man can see you've had your boobs done. It's a good job, you should thank your doctor, but don't sit here and lie.
Article continues below advertisement
Parks claimed Moore then started texting him and refused to heed her warnings to stop.
Moore said that was a lie, and then caused all hell to break loose by dragging NeNe Leakes into the fight, stating, "Everybody flirts. NeNe flirted with Peter Thomas."
As RadarOnline.com previously reported, that comment sent Leakes (with husband Gregg sitting behind her) into a finger-pointing rage against Moore, who said she NEVER flirted with Cynthia Bailey's husband Thomas.
Also on the episode, Moore and Leakes clashed about how both had agreed to donate $20,000 to a charity benefiting children -- but only Moore had actually donated the money.
Meanwhile, it was knives out for Parks and Cynthia Bailey as the model told the legal eagle, "Apollo is your storyline, and he's gone.
Watch the video on RadarOnline.com
"How many law cases have you won?" Bailey asked, while Parks threw shade at her rival's modeling company, snorting, "The Bailey agency exists?"
Article continues below advertisement
Bailey snapped, "Win a case!"
Later, Kandi Burruss unexpectedly revealed she had her own prison drama that affected her friendship with Parks.
Parks had accused Burruss of abandoning her, but Burruss explained on the reunion she was going through a lot having "a family member who was going to prison at the time."
She was upset about Parks' reaction, and sobbed that she'd always been there for her pal.
Parks said they were fine now and she loved her, but Burruss just winced.
Meanwhile, Parks denied the stories (spread by her own husband Nida) that she'd allegedly cheated on him with a man known as Mr. Chocolate.
"It's totally false … I love Apollo, still love him to this day."
Parks said Nida had probably spread the rumors because he thought they were headed towards divorce.
But as RadarOnline.com previously reported, Parks has NOT filed for divorce from Nida, who received an eight-year prison sentence for bank fraud and identity theft.