Radar Told You First! Phaedra Says At 'RHOA' Reunion That She Hasn't Filed For Divorce From Jailbird Apollo: 'I'm Still Married'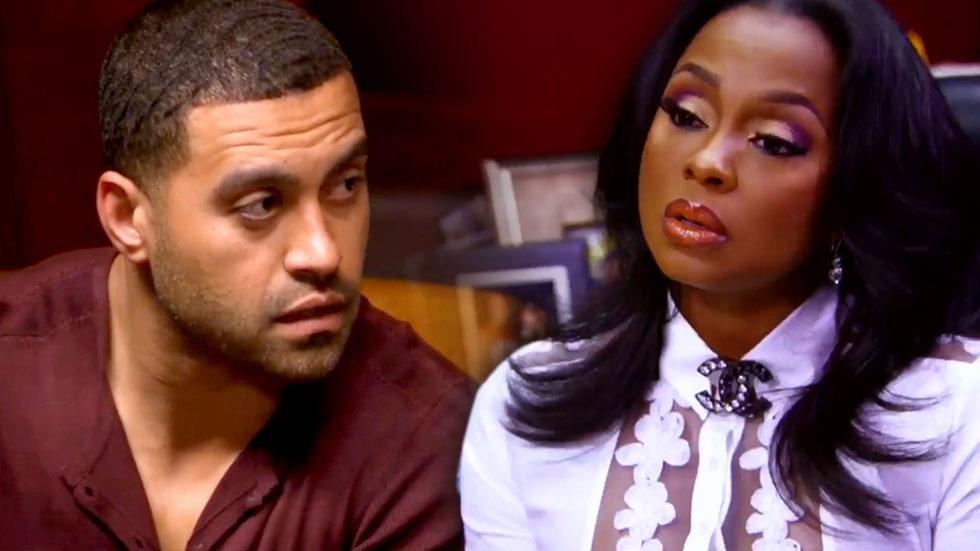 Phaedra Parks shocked host Andy Cohen on Sunday night's The Real Housewives of Atlanta reunion, telling him of her incarcerated husband Apollo Nida: "I'm still married."
Of course, RadarOnline.com exclusively reported in March that Parks -- despite announcing she would divorce Nida, who is serving eight years for bank fraud and identity theft -- hadn't filed any divorce paperwork.
A source also told RadarOnline.com that Parks has one big reason not to end their marriage: she allegedly doesn't want Nida to be compelled to testify against her, in her ongoing defamation lawsuit.
Article continues below advertisement
Watch the video on RadarOnline.com
In a segment on Sunday's reunion show, Parks surprised Cohen by saying, "I have not filed" for divorce,noting, "I just gotta do what's best for me -- this is a life-changing decision."
Parks claimed she was stalling the divorce for the sake of the couple's two adorable sons, Ayden and Dylan.
"I am just making sure my children are OK first. One day, our children will have access to this footage, and I want them to be proud of me as a mother, as a wife," Parks said, getting teary-eyed as the other Atlanta housewives looked on.
"I make plenty of money, I don't need this," she said. "I have five degrees, I can work every day of my life, but what I do need is time to make the appropriate decision for my family, for my children, and the freedom to be able to do without people trying to be judgmental ... on what should happen with my kids that I'm supporting."
Cohen mentioned the scary scene in which Nida appeared to physically threaten Parks, and when asked if she was afraid he would harm her, she replied, "My husband definitely has a temper. He can get out of hand. I just didn't know."
Article continues below advertisement
Then, Parks refused to answer if Nida ever got physical with her.
"I don't know if I need to discuss that with you," she said tersely to Cohen.
And was Nida unfaithful? Later in the show, Cynthia Bailey claimed to Parks she had heard reports of Nida cheating on her; the attorney did not reply.
But she did make excuses once again for not taking the boys to visit Nida in prison, saying she hadn't taken them to the facility in Kentucky because of restrictions involving kids.
However, her co-star Kandi Burruss said she'd visited that Kentucky prison multiple times and felt the children should have a relationship with their father.
Reunion show viewers also learned Kenya Moore is still dating James Freeman, the man she was set up with on Bravo's The Millionaire Matchmaker.
"Just taking it slow, that's it," Moore smiled.
Moore, who was rejected by her own mother and raised by her grandmother, also heartbreakingly talked about how floored she was when her mother, who is still alive, said hello to her.
Article continues below advertisement
Meanwhile Porsha Williams -- who physically attacked Moore at the last wild RHOA reunion -- still refused to apologize to Kenya.
"She said crazy things about me … so I didn't and I won't," Williams snapped to host Cohen.
Because Moore doesn't have a relationship with her mom, Williams said, "She doesn't have that compassion," and reminded everyone she'd been outraged when Moore had waved a scepter in her face during last year's reunion.
Williams also dropped a personal bombshell -- claiming that she'd found out her ex-husband, football player Kordell Stewart, had allegedly cheated on her during their marriage.
She denied co-star Claudia Jordan's charge that Williams had dated a married African man after her divorce from Stewart.
NeNe Leakes, still smarting after the therapy session gone bad with the other housewives, huffed that she was being blamed for everything.
On the reunion show, Leakes engaged in a nasty back-and-forth with Burruss about being Parks' new BFF, because she and Phaedra bonded over divorce issues -- but then she smoothed things over, telling the Kandi Factory star, "We good."
However, as RadarOnline.com readers know, there are two more parts of the reunion show to go -- and Leakes is set to break down in tears and storm out.
The Real Housewives of Atlanta airs Sundays on Bravo at 8/7c.