Incomplete Apology? Phaedra Parks Doesn't Absolve Kenya Moore Of Allegedly Propositioning Apollo Nida: 'I Had To Roll With My Husband'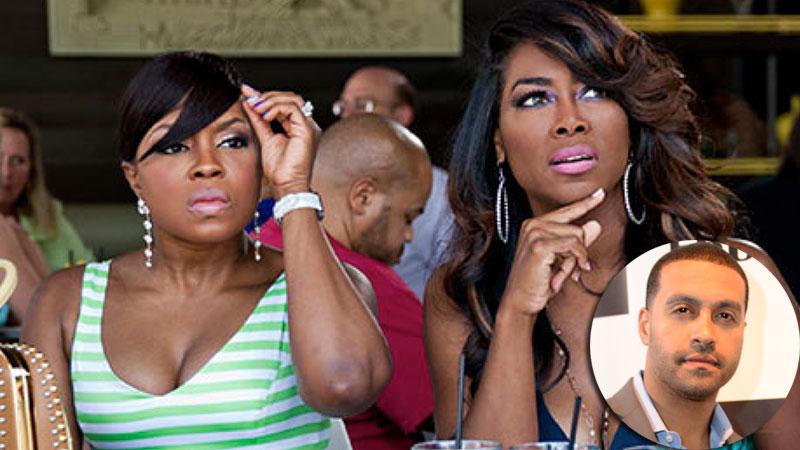 Phaedra Parks' apology to Kenya Moore on Sunday night's The Real Housewives of Atlanta was nothing if not lackluster.
On the episode, Parks finally tells Moore that she is sorry for calling her a whore. However, the mogul refuses to tell Moore that she believes the other housewife had never propositioned prison-bound Apollo Nida.
In an emotional pow wow during the housewives trip to the Philippines, Moore goes to Parks' room on a mission to mend fences.
Article continues below advertisement
As RHOA fans know, the two had a falling out ages ago after Parks' husband Nida claimed Moore had offered him sex. The former Miss USA winner has vehemently denied these claims, however.
Originally, Nida alleged, "She wanted to f*ck, okay. She wanted to have sex in L.A."
His claim led outraged wife Parks to call Moore a whore – multiple times.
But Parks and Nida became estranged during his legal troubles and last year, Nida finally admitted on camera he had lied about Moore pursuing him.
However, Parks has never told Moore she believes nothing ever happened between the two!
On Sunday night's episode, Parks keeps her mouth shut on the subject, otherwise admitting her anger toward Moore.
Parks shares that when the "crazy stuff" started happening – referring to Nida and Moore allegedly sexting and flirting in Los Angeles – "I was hurt. Hurt people do things to hurt others sometimes…I can't change the past. I'm ready to move forward. Hopefully this is our new door."
Article continues below advertisement
Moore tells Parks, "Even though you say you're over it, your behavior is not showing me that."
Moore recalls Parks' cold behavior when she tried to explain: "The biggest blow of all was when you started calling me a whore. You were literally trying to destroy me."
Parks softens for a moment, sharing: "I'm sincerely apologizing to you."
Moore wants Parks to know she had not done anything with Parks' husband Nida: "I have never seen him in L.A. I have never propositioned him. I've never crossed a line with him nor have I ever wanted to. I just need to know you believe that."
Parks only sighs, "I want to believe it but at the end of the day, as a wife, I had to roll with my husband. We don't go together no more so I don't know what to believe anymore.
"I can't change that," Parks sobs. "It's not about you. It's about everything. I can't keep sitting around dwelling on what might have happened."
Moore presses the other housewife, pointing out that the issue will still affect them if Parks doesn't believe her.
Article continues below advertisement
But Parks won't take the bait, saying the matter was in her rear view mirror: "I'm done with it. From here on out, I will never call you a whore again."
The two pray together and Moore decides the conversation is satisfactory enough for her.
Also on Sunday's episode, the ladies wind up their Philippines bonding vacation by riding horses to the top of a volcano and, later, having a hotel slumber party.
But the elephant in the room is still NeNe Leakes, who skips put on the trip due to supposed health issues.
Instead, Leakes has costume fittings in New York for her role as the evil stepmother in Broadway's Cinderella.
Leakes chokes up remembering her days as a stripper and realizing her transition into a bona fide stage star.
Meanwhile, Claudia Jordan tells the other housewives that she believes the trip put them all in a better place.
But then she asks, "Has anyone spoken to NeNe?"
Porsha Williams confesses that she has and claims Leakes was glad the vacation had worked out for
everyone.
Wiliams then cracks up the ladies by saying Leakes (who stormed out of a housewives therapy session) would have fallen into line with the others if she had come on the trip.