Working The Pole! NeNe Leakes Opens Up About Stripper Past: 'It Became An Addiction'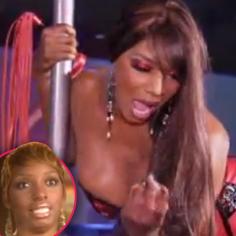 Before The Real Housewives of Atlanta star NeNe Leakes got her big break, she was bumping and grinding on stripper poles as an exotic dancer — and she's sharing new details about her past time!
The reality star sat down for a new tell-all interview with E!'s Giuliana Rancic and opened up about her pole dancing past.
"I remember going home and having something like $1,000 and thinking 'I made $1,000 in one night. Baby we are doing this tomorrow night,'" she recalled of those days.
Article continues below advertisement
She explained that she'd just gotten out of an abusive relationship with an ex and was looking for quick cash to support her family because she had no job or money at the time.
She answered an advertisement in a newspaper and was hired on spot with no prior dancing experience. Leakes ended up working as a stripper for three years, under the name "Silk," when she was a 23-year-old single mom.
"It became an addiction," she revealed. "I thought I made pretty good money. It was a great hustle."
She eventually met her husband Gregg Leakes, who convinced her to stop dancing. Although she quit, she doesn't regret her stripper past.
"I feel like strength comes from within. And...experience makes you strong. And I've been through so many things in my life and those things have taught me," she said. "I'm one of those girls, every experience, I learned from my experience."
E! Entertainment Special: NeNe Leakes airs on Monday, December 16th at 10 PM ET/PT on E!.