Kim Zolciak Makes Dramatic Exit, Phaedra Parks Shows Off Her Booty & NeNe Leakes Has Stripper Moves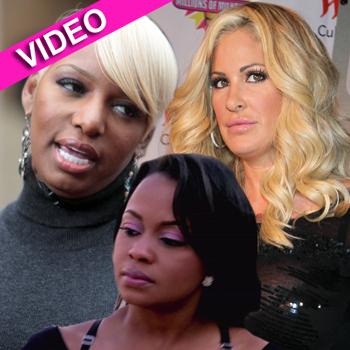 Kim Zolciak made a dramatic exit on Sunday's edition of The Real Housewives of Atlanta when she burst out of a lunch with the girls, and RadarOnline.com has all the dramatic details leading up to it.
"I'm done -- I don't know any of these f**king bitches anymore -- one day they're one way, the next day they're another," Kim said. "I think I realized today that nobody here is my friend. I have no desire to nurture a friendship in the future."
Article continues below advertisement
Apparently, the feelings were mutual.
"Kim Zolciak needs to not be in the book anymore," Cynthia Bailey said. "That page needs to be ripped out and taken out of the equation."
And NeNe Leakes didn't hold back, saying, "Kim, don't let the door hit ya where the good Lord split ya … right up your a**."
As RadarOnline.com previously reported, Kim had many excuses for why she wouldn't be going with the girls on their trip to Anguilla, so the ladies hopped the flight without her.
Once there, it didn't take long for Kenya Moore to start flirting with Phaedra Parks' husband, Apollo Nida.
"Phaedra's a true southern belle. But hey, if you mess with her man, she might Tase you. So you might want to calm down," Kandi Burress warned.
"Everybody knows that it is inappropriate to be touching anybody's man, let alone your husband," Phaedra said. "She has just pushed it to the limit."
"I don't think I was flirting with Apollo," Kenya said. "I hope I wasn't. But there is no shame in my game."
Article continues below advertisement
The next day Phaedra had no shame in holding her husband's attention – with her booty – in a tiny black thong poking through a lace cover-up.
"I don't think Phaedra was too happy with Kenya flirting with Apollo last night," Cynthia said. "So she definitely brought out the big butt -- excuse me, guns -- to make sure that her man only has eyes for her."
After a day of sightseeing on the island, everyone returned back to the hotel for drinks, and Phaedra arranged for a troop of Anguillan dancers to put on a show.
It didn't take long for NeNe to join in on the fun.
"They ain't teaching me nothing new, honey. I know all this sh*t honey," NeNe bragged.
"I've been working the pole for 100 years. I was the queen at the club. They didn't crown me with a crown, they crowned me with dollars."
Watch the video on RadarOnline.com
PHOTO: Kim Zolciak Strips Down For A Cause
Tune in next Sunday at 9/8c on Bravo to watch more of the Atlanta drama unfold.