NeNe Leakes Calls Out Kim Zolciak For Her Constant Excuses, Storms Off RHOA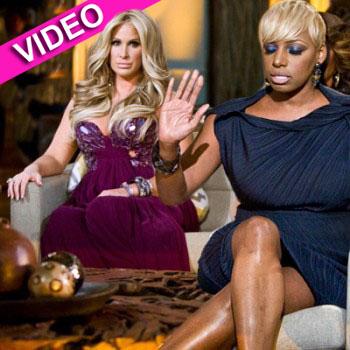 On Sunday's episode of The Real Housewives of Atlanta, NeNe Leakes calls out Kim Zolciak for her constant excuses leaving her to flip out at a luncheon with the girls, Kenya Moore flirted a little too much with Phaedra Parks' boytoy Apollo, Kandi Burruss and Phaedra worked out their pelvic floor muscles, and Kenya and a friend met up with Phaedra and Apollo to have a business meeting about a workout video and race some go-karts while they're at it.
Article continues below advertisement
All of the housewives arrived for lunch to discuss planning a trip to Anguilla, and the last person to arrive was Kim, which didn't sit well with NeNe.
"So Kim walks in with her belly," NeNe said. "She probably had an extra pillow under there to make it look like it was bigger. Anything to be drama."
As the women chit-chat about how beautiful Anguilla is, Kenya chirps in with, "So is this a couples trip? I guess I'm making sure I'm invited. I'm invited right Cynthia?"
"Let's put it this way; If Kenya wants to buy herself a ticket, get herself a man, and fly to Anguilla, it's not like I'm actually gonna be standing at customs to turn her around," Cynthia said.
As Cynthia went around the table to confirm that everyone was going on the trip, Kim said yes…but only after she discusses it with her doctor.
"At 28 weeks you can't travel, but I would love to go because I went last year. So I'm gonna have to talk to my OB," Kim said.
Article continues below advertisement
"My cervix is already shortened just a little, and I had KJ early. I mean there's a lot of factors. My husband's in camp, I'm still breastfeeding. So...?"
"She gonna come up with every excuse she can possibly come up with," NeNe joked. "My blood pressure was going up, my hair was shedding, my nails were coming unglued, I couldn't walk…
"Kim knows who to tell some tall tales, believe me. The b*tch might be two weeks pregnant but will tell you she's two years pregnant. That baby gonna come out the size of a bus. You gotta be crazy enough to believe it. That's why I don't f**k with her."
Finally, Kim flat out said she wasn't going to Anguilla.
"I only have 8 weeks left in my pregnancy, so I definitely cannot go, unfortunately," Kim said.
The next minute, Kim said that she was going on vacation with her husband…the same time the women are going to Anguilla!
"How you gonna sit up here and tell me you can't go on a vacation, but you're going on vacation…the same time we are, somewhere else," Kandi said.
Article continues below advertisement
NeNe added, "If you were the right kinda b*tch, you'd walk up in here and say, 'You know what? I'm not gonna travel with you guys because I don't want to.'"
Kim decided she had enough of the women calling her out, so she stormed off.
"All these f**king b*tches are crazy," Kim said.
But as always, Nene had the final word.
PHOTO: Kim Zolciak Strips Down For A Cause
"So Kim storms out with her belly and wig in tow, and I'm like 'Good, you need to be gone.'"
Elsewhere, Kenya couldn't help but flirt a little too much with Phaedra's boyfriend, Apollo, while discussing a possible collaboration for a workout video.
"You look like a supermodel with your shades on," Kenya said.
Phaedra caught on to what Kenya was doing right away, and she was not happy about it.
"She might want to pump her brakes, because she is breaking some cardinal rules," Phaedra said.
And what's an episode of The Real Housewives of Atlanta without some talk of Kegel exercises?
Article continues below advertisement
When Kandi and Phaedra got together for some shopping, Kandi brought along some Kegel balls from her sex toy line. Phaedra seemed unsure of what they were for, but Kandi was quick to explain.
"Kegel balls are basically small balls that you insert into the vagina, and you use your vagina to hold them to make it tight and right," Kandi said. "I have mine in now."
But Phaedra only wanted to know one thing…"Does it feel good?!"
Meanwhile, Cynthia Bailey and Phaedra bury the hatchet about the infamous butt dial.
"I accept Phaedra's apology, even though I know it never would've happened if I didn't have evidence," Cynthia said.
"It's not like I haven't said things about Miss Phaedra, I just haven't got called on them yet!"
Watch the video on RadarOnline.com
Tune in to Bravo next Sunday night at 9/8c to watch more of the drama in Atlanta unfold.