Counseling Collapse: Kandi Complains Sex Life With Todd 'Sucks,' NeNe Storms Out Of Group Session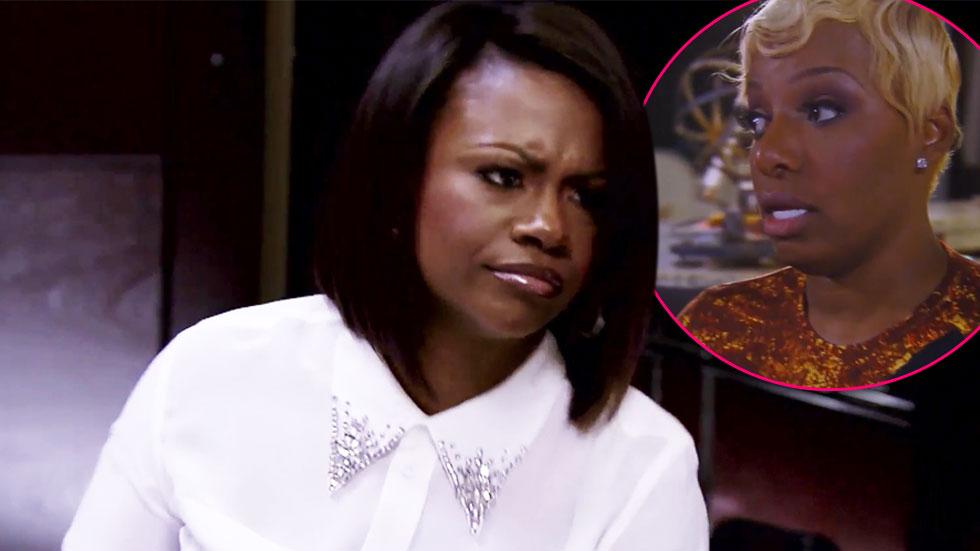 The therapy concept backfired twice on The Real Housewives of Atlanta Sunday, in sessions featuring Kandi Burruss and her husband, and NeNe Leakes and her castmates.
First, Kandi Burruss was still having marital issues after seeing a counselor with her husband Todd Tucker, and later, NeNe Leakes stormed out of a group therapy session involving the housewives.
Viewers saw the aftermath of Burruss and Tucker consulting Dr. Sherry Blake, as during the session that aired last week, Burruss had admitted her sex life with her husband hit the skids after just six months of marriage.
Article continues below advertisement
And as RadarOnline.com previously reported, according to Tucker, he'd never recovered from Burruss' demand that he sign a prenuptial agreement before they wed.
On Sunday's episode, Burruss suggested to Tucker that they start working on the exercises Dr. Sherry had suggested, but he was reluctant, sighing, "She wasn't helping us solve problems."
However, Burruss began Dr. Sherry's homework of listing the pros and cons of their relationship.
Burruss recalled what she enjoyed when they first dated: "We used to sit in the car for hours kissing and I loved that. We don't kiss like we used to!"
But Tucker told the cameras the homework was "for the birds" and they needed "to go in a room and have sex … be spontaneous."
The Kandi Factory owner said he was mad all the time and she wanted him to let things go, while Tucker told Burruss she avoided important issues.
Article continues below advertisement
When Burruss pressed him for "pros about me," the TV producer was stuck, but finally said she was "very family-oriented."
Then, he wanted to leave for work, although Burruss was upset that they didn't get far with the list. Still, she knew one of the cons was going to be how she couldn't reign in her mother, the meddling Mama Joyce.
Later, when Phaedra Parks asked Burruss how "baby making" was going with Tucker, Burruss complained, "Girl, it ain't going. I don't think we're having sex enough, personally. Our sex life sucks lately."
Watch the video on RadarOnline.com
Also on Sunday's show, all the housewives (except for Parks) attended a group therapy session arranged by Leakes.
The show's queen bee had wanted everyone to talk things over with Dr. Jeff Gardare, but as RadarOnline.com previously previewed, things got ugly when Leakes herself got attacked by the other gals.
She got the ball rolling by saying, "I think it's very negative being around you guys," but Moore pointed out Leakes always cut her down.
Article continues below advertisement
Dr. Jeff, who insisted he would treat Leakes the same as everyone else, said she was talking AT Moore instead of with her.
Moore explained that Leakes said they were friends but the next time, she acted like Moore had Ebola.
"What changed?" Moore asked.
"We're never going to be friends," Leakes said flatly.
As tension rose, Dr. Jeff suggested they table that discussion, but then Claudia Jordan also said dealing with Leakes was "a bipolar experience."
Leakes shouted, "It's not come at NeNe day!"
But Cynthia Bailey had her turn, telling Dr. Jeff her friendship with Leakes fell apart after Leakes infamously called Bailey's husband Peter Thomas a "b*tch."
After Leakes called Bailey a "Mean girl," Burruss chimed in, pointing out that Leakes had thrown Bailey under the bus by saying in an interview that her former BFF was irrelevant to RHOA.
When Dr. Jeff started talking about her relationship with Bailey, Leakes suddenly walked out of the therapy session.
Article continues below advertisement
"This must be 'Attack NeNe' day," she told Dr. Jeff, who followed her out into the hall.
As he tried to coax her back, angry Leakes refused to listen, and kept saying "No, no!" as she stormed off.
On the episode, viewers also saw Claudia Jordan decide to pursue standup comedy and tell the cameras that humor helped her cope after her marriage broke up, she was "clinically depressed," and lost her career in television.
Also, fans saw Parks and Burruss discussing their differences.
The legal eagle felt Burruss had neglected her during her troubles with prison-bound husband Apollo Nida.
Burruss started sobbing and explained she couldn't cope when the tour of her play, "A Mother's Love," had been cancelled.
She understood Parks' situation was a bigger deal but said Parks hadn't reached out to her about the play's failure, either.