Father Supposedly Confesses To Murdering Family In Facebook Post: 'I Have Done Some Of The Worst Things I Could Have Ever Imagined A Person Doing'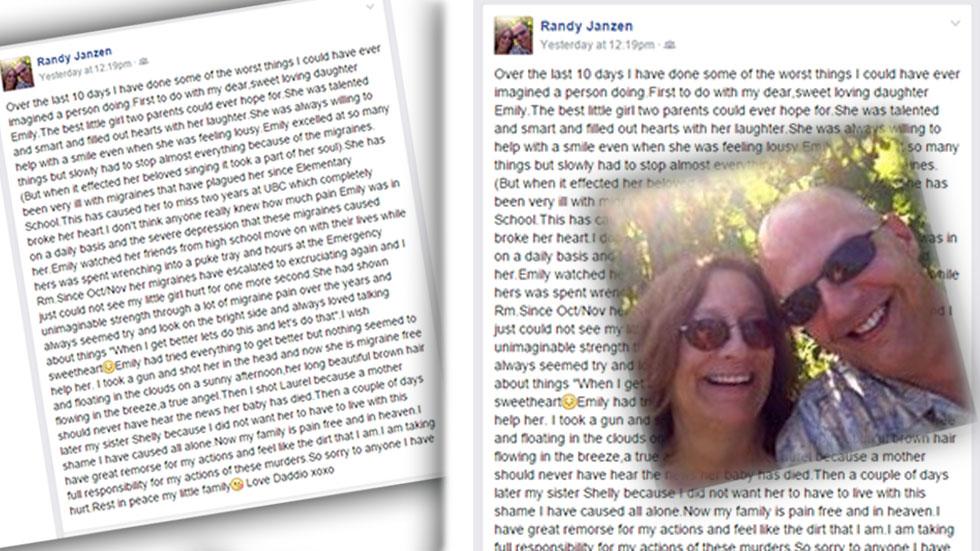 All police had to do was check Facebook to find out who murdered three members of a family.
Randy Janzen allegedly confessed in a Facebook post to murdering his 19-year-old daughter Emily, wife Laurel and sister Shelly," CBC News reported.
Homicide investigators confirmed to the outlet that bodies were discovered at two separate homes on Thursday in British Columbia. One of the bodies is believed to be Janzen, although police reportedly cannot confirm that he wrote the Facebook status.
Article continues below advertisement
The shocking confession began, "Over the last 10 days I have done some of the worst things I could have ever imagined a person doing."
He explained that he murdered his daughter "because of migraines."
"This caused her to miss two years of UBC which completely broke her heart," he wrote. "I don't think anyone really knew how much pain Emily was in on a daily basis and the severe depression that these migraines cause her."
After watching his daughter "wrenching into a puke tray" and spending "hours at the Emergency room," he "took a gun and shot her in the head."
He then confessed that he shot his wife "because a mother should never have hear the news her baby has died."
He added of his sister's murder, "Then a couple of days later my sister Shelly because I did not want her to have to live with this shame I have caused all alone."
He ended the post with, "Now my family is pain free and in heaven. I have great remorse for my actions and feel like the dirt that I am. I am taking full responsibility for my actions of these murders. SO sorry to anyone I have hurt. Rest in peace my little family. Love Daddio xoxo."