Bethenny Frankel Blasts Sonja Morgan For 'Pretentious' Behavior During Atlantic City Trip On 'RHONY': 'She Just Needs A Stun Gun!'​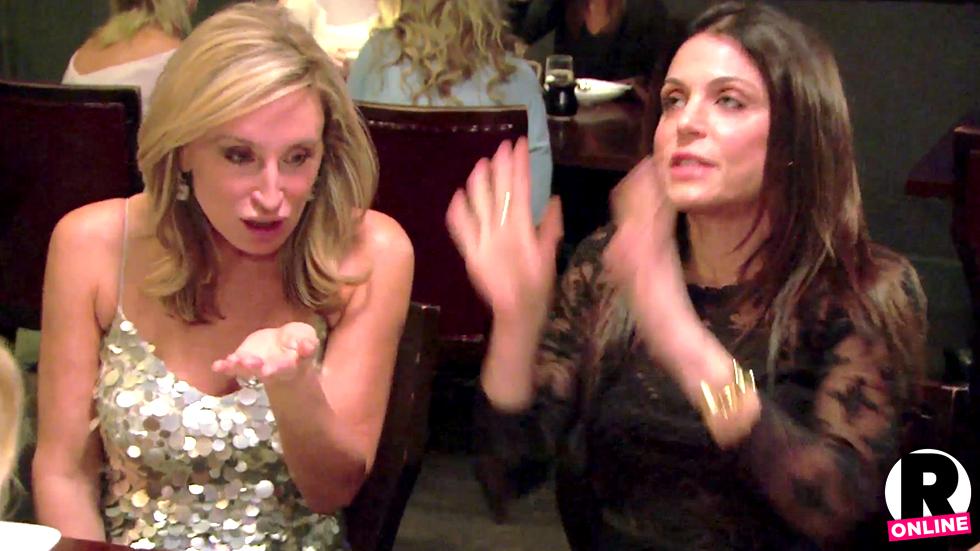 The women may have escaped New York City for Atlantic City on this week's episode of Real Housewives of New York, but the same couldn't be said for the drama!
The episode kicked off with a bang when Heather Thomson fired at Sonja Morgan for forcing her and the ladies to wait in the rain for the limo to arrive instead of inside her home.
Thomson screamed at Morgan following the snub, "In my world, my friends are allowed in my house. In my world, I don't leave my friends in the foyer in the cold. B*tch, b*tch, you're a f**king b*tch!"
Article continues below advertisement
Thomson then said in her confessional, "I've been there for Sonja when she's had too much, where she can't function alone. I've had to bring her home, open the door to her apartment, carry her up the stairs, put her in bed, make sure it's safe. And now it's cold and rainy outside and I can't cross the threshold of Lady Morgan's home?"
Finally ready to hit the road, the ladies soon learned that the drama would be joining them for the ride!
"Heather, we can't go on a trip together if we're not talking to each other," Morgan said, as Thomson demanded an apology.
When Morgan and Thomson wouldn't stop going back and forth about the incident, Ramona Singer had enough!
She screamed, "I can't, I can't, I can't! I'm here to relax. This is really bullsh*t. Sit here and shut the F up all of you. This is my birthday weekend, I've had enough stress with my life!"
Article continues below advertisement
"Stop saying 'I was in PR my whole life,'" Frankel snapped. "It's pretentious and no one wants to hear it… Do you think that I care?"
When a boozy Morgan refused to accept her apology, Frankel said, "Sonja, you're going to alienate the one person who's trying to be nice to you."
Morgan responded, "You're alienating the one person who held you as a kind of pillar in my life. You know what PR stands for? Public relations, I promote people."
Article continues below advertisement
A dumbfounded Frankel said in her confessional, "This sh*t is not ending. She just needs a stun gun."
Watch the Video on RadarOnline:
After the blowout, Morgan danced (and drank!) her worries away with Singer as the duo enjoyed turtle time. But round two of Morgan vs. Frankel began, as she wouldn't drop her past job!
"I was very upset about what you said," Morgan told Frankel in the club. "I miss PR I want to promote everyone because I'm a positive person."
"I want to blow my head off," Frankel replied. "I can't take this anymore. Sonja, you can't repeat the same thing twenty times. It's maddening."
Frankel and Morgan apologized for their actions the next morning, as the Skinnygirl mogul continued her mission to help her friend get on the right path with her finances and life.
"Meeting you all those years ago, I remember thinking you seemed sad about the life with your ex and what had happened," Frankel began. "The loss of family life is completely devastating."
Article continues below advertisement
She continued, "You also have a very serious financial situation going on and I have a serious financial situation going on. I have money, but I am bleeding millions of dollars in lawsuits."
When Frankel warned Morgan of mixing alcohol with the pills she takes for anxiety and stress, Morgan denied taking the prescriptions and insisted that she only takes vitamins.
But Frankel continued to push Morgan as she told her, "You have to take care of yourself because it needs to be fixed. And I will help you. I'm not your enemy, you can trust me."
Although grateful, Morgan refused to accept her friend's help. "I do appreciate the concern from Bethenny and I know she has personal experience that she's projecting on me," she said in her confessional. "But she can't compare her background with mine."