Exclusive
Diva Alert! Teresa Giudice Inmates 'Really Fed Up' With Fraudster's Special Treatment — Fellow Prisoner Tells All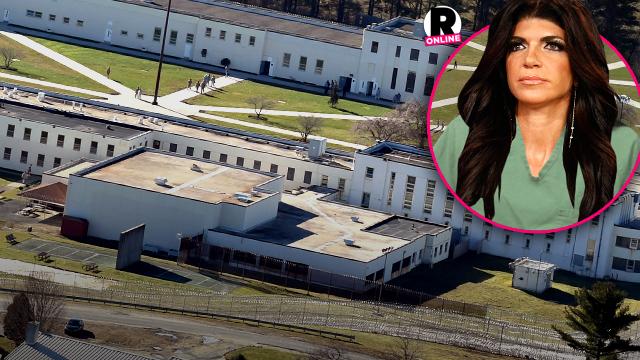 Teresa Giudice's celebrity status didn't save her from being sentenced to 15 months in prison for fraud, but it is allowing her to receive special treatment behind bars, according to one insider. A former Danbury inmate spoke out exclusively to RadarOnline.com with new claims that the Real Housewives of New Jersey star is using her name to get what she wants behind bars – and it's working!
"She's a diva, absolutely," the source, who served time with Giudice and was recently released, told Radar. "Just the way she got her job, that's definitely diva treatment."
Article continues below advertisement
According to the source, "She wipes tables three days a week and it's maybe for 15-20 minutes a shift. She had that job before she came in, and that's hard to get. Why should she get that when people are outside shoveling snow?"
When it comes time to fuel up in the commissary, the insider said the Bravo star gets special treatment there too.
"She comes in very late and if the short line is closed her friend will go and get her the tray," the insider said. "You're not allowed to do that, but for Teresa you're allowed to do it."
And once, the source claimed, Giudice received chicken for lunch instead of the "cr**py beef" the other inmates got.
Claims of special treatment surround her visiting time as well.
The prison sets up arts and crafts for children visiting their mothers. When Teresa's daughters Gia, 14, Gabriella, 10, Milania, 8, and Audriana, 5, gave her a craft they made, she was allowed to keep it, though others were asked to discard theirs, according to the source.
Article continues below advertisement
"She brought a craft out from the visiting room and I thought one woman was going to lose it," the source shared. "Other women will go in there, their kids will make them something and then they'll take it away from them. The guards let her do that."
But despite the allegations of special treatment, Giudice is still acting like the diva viewers see on TV!
"They don't fold your laundry, but someone was doing it special for her because she's Teresa," the released prisoner said. "She stood in line and said 'I got my laundry back and it wasn't folded today.' She was all p***ed off about it."
Even though her former inmates are "really fed up with her," Teresa continues to do whatever she wants, according to the source.
"She always comes late to exercise and if it's hot she'll either open the door or window," the source said. "She doesn't even ask if it's okay, she just does it."