Scott Falls Off The Wagon During Kourtney's Pregnancy, Seeks Refuge With Khloe On 'KUWTK'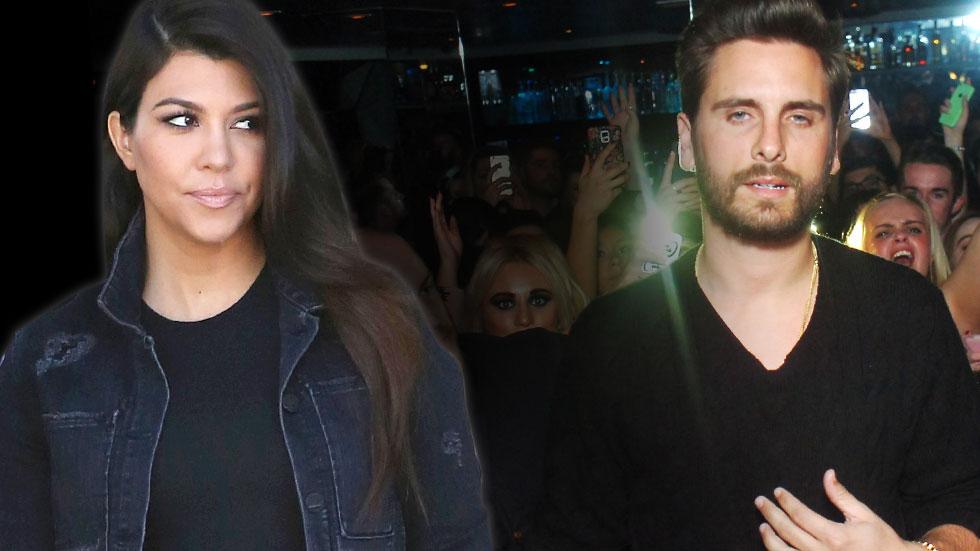 Kourtney Kardashian's baby daddy Scott Disick once again let her down by getting drunk during the last days of her third pregnancy on Sunday's Keeping Up with the Kardashians.
And while Bruce Jenner's 20/20 interview about his gender transition was a national sensation on Friday, the former Olympian was nowhere to be seen on the broadcast.
Disick -- who as RadarOnline.com reported, decided to party in Las Vegas instead of supporting Bruce with the rest of the family on his big reveal night -- also visited Sin City months ago, just as pregnant Kourtney was getting ready to pop.
Article continues below advertisement
Disick protested that his "work" was only going to take one night.
Kourtney sighed in confessional, "I don't want him drunk in the delivery room."
Disick went to Vegas admitting Kourtney was upset, but he needed to make money all the same.
Rich Wilkerson, pastor to the friend who calls himself "The Lord," was last seen advising Disick in the Hamptons and met up with him in Vegas.
The minister listened to his complaints about Kourtney's pregnant neediness.
"It's the third time around," he whined. "How many f**king toddler outfits can I look at? It's ridiculous! Leave me alone!"
While Wilkerson ordered water at the bar, Disick laughed, "I'll take a vodka and Red Bull. I'm no f**king pastor."
Article continues below advertisement
Later, in his usual way, Disick sprayed the party crowd with champagne.
Khloe got a message from Disick and told Kim he'd flown home from Vegas on a private plane "drunk, texting me the most insane texts that he needs to go to my house and to give Rob Kardashian a hug … he is out of his mind."
Khloe called Disick and told him to go to bed -- not to her house.
Later, Khloe told Kourtney that Disick had showed up at her house anyway and pounded the door down to see Rob.
Kim sadly asked Khloe, "What would you do if you had three kids with someone that was an alcoholic?"
Later, during the "Breakfast at Tiffany's" style baby shower Kim and Khloe threw for their sister, Khloe told the cameras, "Scott fell off the wagon, and has also been really depressed, and when Scott is like this, he's not allowed at his house, so he is at my house.
"I know how to deal with Scott really well, so I don't mind talking to him and I guess babying him."
Article continues below advertisement
Although Kourtney concluded she couldn't depend on Disick, viewers were informed that he was indeed in the delivery room when she gave birth to their son Reign on Dec. 14.
Also on the episode, Kim celebrated her nude Paper magazine cover and told her husband Kanye West's best friend Virgil that she'd come to a family planning decision.
Saying Kourtney having three children would be "insane," Kim added, "I had a realization today with friend Larsa Pippen, she has four children ... I don't think I can do more than two. I think it's going to be two and done."
Viewers also saw Bruce and Kris Jenner's daughter Kylie, 17, offer her wisdom after Khloe swore someone had stolen one of her birth control pills, and Kim said it was fine to miss a day.
Kylie indicated Khloe might have reason to worry because "sperm lives inside the vagina for three days."
Also on the episode, as Radar has previously reported, Kris worried she was being stalked so she packed a pistol and hired security guards -- then found out her iCloud had been hacked and someone had photos of her naked when she was privately changing her clothes.
Kris, who said she was being blackmailed over the footage, warned her daughters it was a good security lesson for them all.
And as for Bruce? A preview for next week's episode showed him back on camera -- and hearing all about stepdaughter Kourtney's trouble with Disick.
Keeping Up with the Kardashians airs Sundays on E! at 9/8c.