First Comes Love: Josiah Duggar's Girlfriend Marjorie Joins '19 Kids And Counting' -- Watch Their Courting Video!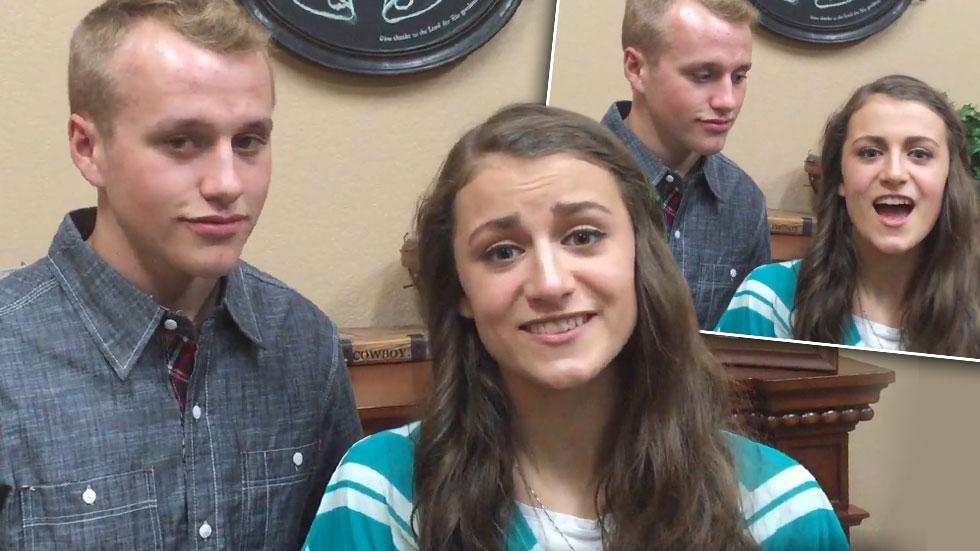 Josiah Duggar is primed to be the next Duggar to walk down the aisle.
The 19 Kids and Counting star didn't waste any time introducing his Christian girlfriend Marjorie Jackson to viewers, staging an on-camera courting announcement for Tuesday's episode.
As RadarOnline.com reported earlier this week, Josiah, 18, confirmed to People that he was seeing Marjorie, 17, after sparks flew during a mission trip to El Salvador in December 2014.
Article continues below advertisement
During Tuesday's "Duggars Say I Do" special that chronicled the family's many weddings, Marjorie suddenly appeared.
"Hey, guys, my name's Marjorie Jackson and I have some Duggar insider news for you," she grinned. "Now I bet you're all wondering, what is it? You guessed it! It's a courtship."
She added: "Who is courting? It's one of the boys and it's not John David, it's not Joseph, it's not Jedediah — did I miss someone?
Josiah suddenly interrupts Marjorie.
"Josiah, Josiah!" she exclaims.
Josiah then joins her and addresses the TLC cameras, saying, "That's right. Marjorie and I just recently started a courtship relationship. Tune in to TLC to keep updated on our growing relationship."
In an extended version posted on TLC, Marjorie explains that courtship is "like dating with a purpose," which, as Duggar followers know, means strictly chaperoned dates, side hugs, and marriage within months.
Article continues below advertisement
Watch the Video on RadarOnline:
Although he's only 18, it sure looks like Josiah will be next up on the nuptial parade because tellingly, the announcement came during a 19 Kids and Counting episode devoted to Duggar family weddings.
Additional secrets reveal nuptial details from the weddings of Jessa and Ben Seewald, Jill and Derick Dillard, as well as Michelle and Jim Bob Duggar.
Jessa recalls that to save money for her honeymoon with Seewald, they skipped tuxes for the groomsmen, instead opting for dress pants and suspenders.
Seewald describes the wedding ring he designed for Jessa as being inspired by a hurricane: "That's what happened to my heart whenever I saw you, just like a hurricane. You swept me away," he tells her.
However, Jim Bob recalls Seewald's big wedding blunder that RadarOnline.com recently reported: "Ben had actually forgot the wedding ring so he called me and said, 'Hey, I forgot the ring' and asked me to get the ring out of his room."
MORE ON:
19 Kids and Counting
Article continues below advertisement
Cameras show Jim Bob giving Seewald another, wrong ring as a joke, then presenting the worried groom with the real one.
Jim Bob thought the gag was all in good fun, laughing, "Just seeing the look on his face was priceless."
The episode also recounts Jill and Derick's wedding of 3,000 guests, thanks to Jim Bob inviting random conference acquaintances.
"I met a lot of people at my own wedding," Derick notes on the matter.
Before the ceremony, Derick's mom Cathy got sick with cancer and Jill said, "Even a week before, we didn't know if we were going to have a wedding and a funeral at the same time."
As viewers know, Cathy made it to the ceremony--but is still fighting the cancer.
The best part of being married? Jill (who got pregnant on the honeymoon and just gave birth to the couple's first child) smirked, "All gone, chaperone."
Article continues below advertisement
Later, Josh and Anna Duggar remember their wedding being cheap since they were only engaged for three months prior to the ceremony.
Their invitations didn't all match and Anna said she wore her sister's wedding dress and made her veil for less than ten dollars.
Josh sang romantically to Anna at the wedding, and serenades her again during Tuesday's episode, joking, "I'm more into rap."
The couple who, as RadarOnline.com reported, allegedly have a whopping tax debt thought the budget wedding was the best day of their lives.
"We didn't have to spend all this money," Josh tells cameras.
Viewers also see Jim Bob and Michelle talk about their similarly no-frills wedding, which consisted of folding chairs and crepe paper.
After 30 years of marriage, Jim comments, "We didn't do much planning but we had a lot of love. And we still do."
Jim Bob also jokes: "I guess we're three weddings down and 16 more to go."
Get Josiah's invitations ready!​