Derick Dillard's Mom Cathy Gets Treatment To Keep Cancer At Bay, While Jill Suffers Morning Sickness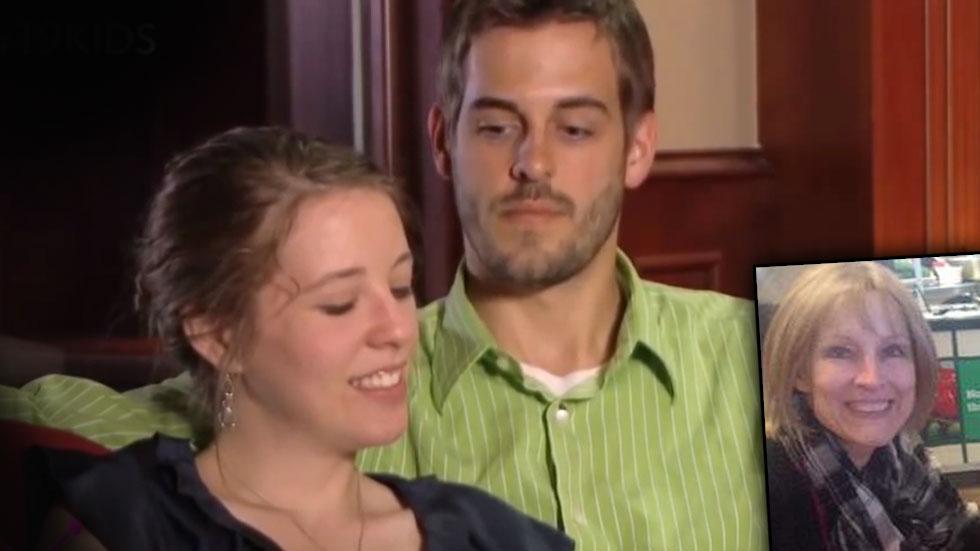 Parents-to-be Jill and Derick Dillard were sad his cancer survivor mother Cathy wouldn't be with them as they learned their baby's gender on Tuesday's 19 Kids and Counting.
Cathy was getting ready to Omaha, Nebraska for treatment to prevent recurrence of her cancer and Jill made a cheesecake and snack care package for her mother-in-law.
As Jill recalled, Cathy's battle with cancer dovetailed with the couple's had happened when the couple got married last year, and they were overjoyed she was able to make it to the wedding.
Article continues below advertisement
On Tuesday's episode, Cathy chowed down on the food they'd brought and told Jill and Derick, "I'll pack on more pounds in the next four days than I have in the last three months."
Jill told the cameras, "It is hard for me to see Derick's mom go through these health problems, and yet I know she's very strong and has lots of people praying for her."
Cathy said she would get stem cell transplant of her own stem cells during the therapy.
"My mom will be going for treatment, doing some procedures to keep the chance of her cancer recurring to a minimum," Derick said. He added that "looking forward to her first grandchild definitely gives her some incentive to get better."
Dillard said he and Jill would find out the gender of their baby in their Arkansas hometown while Cathy was in Omaha.
He noted, "We'll be sad my mom won't be here, but we'll be in constant communication with her."
Article continues below advertisement
In fact, he said she'd be the first to know boy or girl via video chat.
Last year, Dillard announced Cathy was cancer-free and just a few weeks ago, he captioned a Twitter photo of his mom with the line, "Praise God, he has healed her!"
Meanwhile, although Jill was thrilled to be pregnant, she admitted she was having a lot of morning sickness, following her mom Michelle's pattern of feeling awful in the first trimester. Like Michelle, Jill felt repulsed by various smells.
Also on the episode, the Duggars continued to plan Jessa's wedding to Ben Seewald.
The couple actually married last year, but on Tuesday, the show continued to reveal the lead up to the ceremony as big brother Josh created Jessa and Seewald's wedding invitations.
The two selected their favorite of three choices Josh had designed.
Seewald admitted to his "angelic" bride that he'd invited "everybody I know of," and Jessa joked that he'd have to buy more hot dogs for the low-budget ceremony.
Article continues below advertisement
Jessa told the TLC cameras they'd invited 800 "households" -- and while some had one person, others could have as many as 20!
Later, on the second new episode, Seewald visited a jewelry store to design Jessa's wedding band. He handed the salesman some sketched out ideas, and then realized he didn't have Jessa's engagement ring to match up; he called her sister Jinger to bring it over.
Jessa handed her ring to Jinger and laughed, "Ooh, I can't imagine why she'd want my engagement ring."
She knew that Seewald wanted to keep the wedding ring design "a secret and surprise me … I'll let him do it."
At the jewelry store, Jinger arrived with the ring and Seewald showed her the diamond settings he was mulling over.
Seewald was sure that "whatever I'd design for her she'd really like," but added, "I'd also like the best value."
Jinger said he did a great job and Seewald told the cameras, "I can't wait to see her face when I slide it on her finger."
Article continues below advertisement
Also, 19 Kids fans saw Jessa, who has been the anti-Bridezilla all season, admitting she didn't know much about wedding flowers, and looking lost at a florist shop.
Given her way, she said, "I'd probably go in a field somewhere and pick a bunch of wild ones."
Still, all the Duggar sisters had a blast learning to make bouquets at Flowerama.
But sister Jana admitted of the outing, "These last moments together as sisters are kind of bittersweet ... when Jessa gets married I don't think we're going to be spending as much time together."
19 Kids and Counting airs Tuesdays at 9/8c on TLC.