Jessa Duggar Selects Her Wedding Gown, While Sisters Slam Their 'Awkward' Bridesmaid Dresses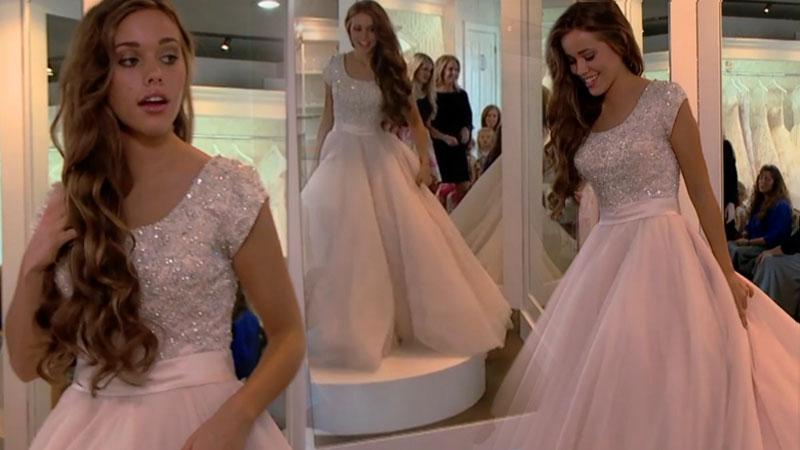 Jessa Duggar chose a modest wedding dress reflecting her family's conservative values on Tuesday's episode of 19 Kids and Counting.
But the rite of passage turned out to be a gauntlet of challenges, as she wanted to make sure it was different from her big sister Jill's, and later suffered a bridesmaids-related crisis when her sisters slammed the cheap and "awkward" fitting coral-colored dresses she had ordered for them online.
Article continues below advertisement
As RadarOnline.com readers know, Jessa and her fiancé Ben Seewald married last year but on Tuesday, TLC viewers went back in time to see the planning process.
Seewald told the cameras that as an engaged couple, they were allowed to hold hands as well as share the usual Duggar-mandated "side hugs," and he confirmed, "We're trying to save the physical aspect of our relationship for marriage."
Jessa planned to go wedding dress shopping with her mother Michelle and future mother-in-law Guinn Seewald, but Ben startled her by asking if he could come, telling her, "I hate to leave your side."
But it wound up an all-girls' outing just two months before the wedding.
"In a year from now, you're going to be a grandma," a wide-eyed Michelle predicted to Ben's mom, who laughed that they should just focus on the wedding.
While Ben joked about Jessa in a wedding dress with "diamond studs up the side and angel wings in the back," he actually expected her to choose a modest gown at the Tesori bridal shop.
Article continues below advertisement
Watch the video on RadarOnline.com
Sister Jinger explained to viewers that meant Jessa needed a higher neckline and/or sleeves.
Michelle recalled how her older daughter Jill, who married Derick Dillard, got the princess treatment before her wedding and "tried on all these dresses.
"That is so NOT Jessa -- she just wants to get in, find the dress, be done -- they're so different."
Jessa tried on a blush-colored dress and preferred it to traditional white, then donned a lace gown with veil and remarked, "This looks very much like Jill's.
"I don't want have the exact same dress as Jill," she said. "Our weddings are pretty close together so I thought it might be fun to have just a little bit different."
Jessa tried other dresses, but went back to her favorite one more time -- the blush-colored A-line gown with a waist sash and silvery beaded bodice and sheer veil.
Sold!
"This is the dress," she declared.
In the second brand new 19 Kids and Counting episode that aired on Tuesday night, Jessa and Seewald and family members visited the Baptist church where they'd get married.
Article continues below advertisement
Jessa told wedding planners they expected less of a crowd than at Jill's wedding of 1,700 guests, as they sent out 900 invitations for the ceremony and ice cream reception (instead of cake).
Fans also saw Jill, then 12 weeks pregnant, and Derick visit a midwife for the first time. During the meeting, the couple listened to their baby's heartbeat.
"This is your daddy, come on out," Dillard said goofily.
"Not yet," the midwives and Jill admonished.
He laughed and corrected himself: "Not come out, but come say, 'Hey.'"
Jill and Derick had decided to have a home birth with no drugs.
Later, Jessa's sister Jinger took engagement photos of her and Seewald holding hands -- but not kissing, as they were saving that for the wedding day.
While all the wedding prep had gone well, Jessa's sisters got upset when their bridesmaids' dresses arrived in the mail.
Article continues below advertisement
As RadarOnline.com has previously reported, Jessa had ordered the inexpensive coral-colored dresses online.
The sizes looked all wrong to her sisters; they tried steaming the gowns but when Jana tried one on, she whined that it was an unflattering mid-calf length. The girls also didn't like the bodice ruching.
When Jinger donned one of the dresses, she called it "a little uncomfortable, awkward."
With her sisters in an uproar, Jessa sighed to the cameras, "When it comes down to it, if you want something else, I'll just leave it with y'all. You can return them all and order your own dresses. I'm not really picky.
"It would be nice if they stuck with the dresses I've chosen, but I guess we'll see."