19 Spores And Counting! More Duggar Sister Feuding Ahead? Jessa & Ben Are Given Home Full Of Mold, While Jill & Derick Live In 'Big House'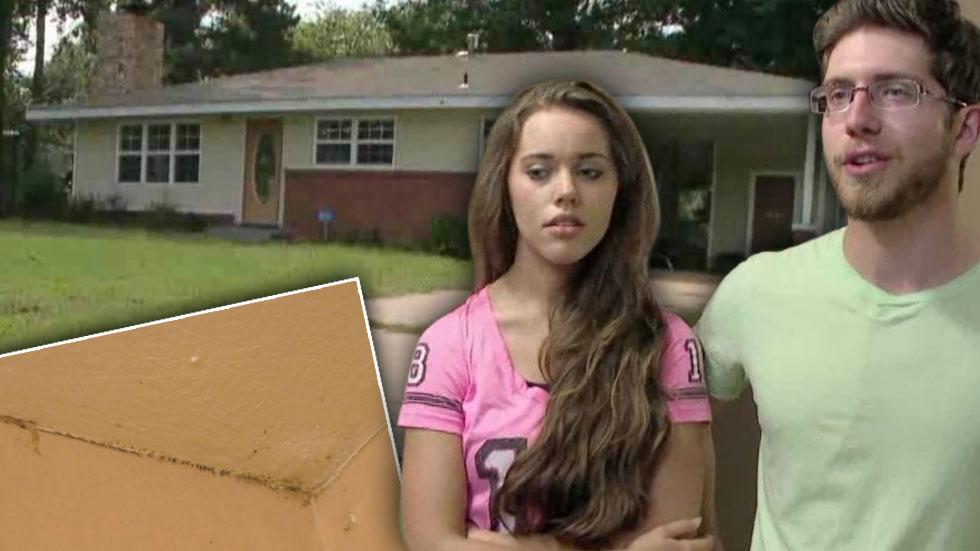 On Tuesday night's 19 Kids and Counting premiere, viewers learned that Jessa Duggar's parents Jim Bob and Michelle gave her and soon-to-be husband Ben Seewald a moldy home to live in -- after they had loaned Jill and new husband Derick Dillard "the big house."
Although Jessa and Seewald married last year (just months after Jill and Dillard), the TLC reality show's fans went back in time to when they were still planning their wedding and living arrangements.
Article continues below advertisement
Jim Bob told the cameras he and Michelle would let them live in Grandma Duggar's old house -- but not for free.
"If we can go and give our children a place to rent really cheap when they first start off, that will really help a couple to build a bond together, at least for the first couple of years," the Duggar family patriarch explained.
Their son Josh and his wife Anna had lived in the house for five years after they were first married, but it had been vacant for some time and needed a lot of work.
Watch the video on RadarOnline.com:
Upon walking in and seeing a stained mattress in the bedroom, Jessa laughed that it had "some problems."
Then she and fiancé Seewald looked on the walls and baseboards and saw mold everywhere!
"I'm finding a lot of mold," Jessa sighed to the cameras.
But she looked on the bright side, saying, "Other than that, it's a wonderful house -- nice and small, it will be easy to keep clean."
Article continues below advertisement
As RadarOnline.com has previously reported, the sisters were reportedly feuding about how Jim Bob gave Jill and her husband Dillard a $1.5 million mansion while Jessa got the tract home.
But on Tuesday's episode, Jessa implied she was fine with the arrangement.
"The reason why Jill got the big house was because it's really close to Derick's work and … it's kind of a better location for them …. we don't mind, though, really," she said.
And Jessa elaborated, "There are a lot of advantages living in a smaller house, actually. Jill and Derick, they love their house where they are but that's a lot of work to keep up with -- vacuuming, sweeping, dusting. You got three floors. It's gotta be a lot of work."
Still, Seewald told the cameras as they inspected a moldy bathroom, "I have a few allergies, so I'm not real big on mold."
"I better get out of here," he told Jessa and other family members. (Don't worry, Duggar fans -- they planned to get the mold cleaned out.)
Article continues below advertisement
On Tuesday's episode, fans also saw Jessa planning her wedding to Seewald, which she admitted would have to be typical Duggar no-frills affair.
Jessa noted that they had two-and-a-half months to plan, two weeks less than Jill had, while Jim Bob said the budget for Jessa's wedding would be $10,000-20,000.
Jessa was thinking of inviting 1,000-1,300 people, but it would be cheap, with "just ice cream for the reception…no cake, no punch," the bride said.
Michelle said Jessa's wedding ways would differ from Jill's: "Jill probably was a little more flowery and lots of decor; Jess is going to want things to be real simple, and straight to the point."
Later, Jessa shopped online for dresses for her 10 bridesmaids and chose modest $50 coral-colored, below-the-knee styles.
She joked that if the girls didn't like the dresses, "maybe I'll have them wear them anyway," adding, "I'm not that mean!"
Article continues below advertisement
Fans also were updated on Jill and Dillard's life after their wedding last season.
The couple, who were only supposed to share side hugs before walking down the aisle, couldn't stop kissing on camera as newlyweds.
Dillard said, "It's so different without chaperones."
Jill and Dillard had the four youngest Duggar girls over to play dress up at their house, and he said, "I think having Jill's siblings over is a test of having some of our own … like trial run children."
In fact, it would be sooner rather than later -- at the end of the premiere, Jill and Dillard revealed to her family that they were expecting their first child.
As RadarOnline.com has previously reported, Jill said she "stole" a pregnancy test from Michelle's bathroom.
Dillard said they had taken previous tests that were negative but "we had found out it was positive yesterday -- we're expecting!"
Laughter, happy shrieks, and hugs ensued with Jim Bob, Michelle, and the rest of the Duggar kids.
"30 days into your marriage you find out," Jim Bob beamed to the couple.
"They work faster than we do," he told wife Michelle.
The family patriarch told Michelle of oldest daughter Jill, "She may end up having more than you have."
Jessa laughed, "This is a honeymoon baby," while Seewald remarked that Jill and Dillard were "beating us again."