Sugar Baby? Jill Duggar And Husband Derick Dillard Defend Putting Dr. Pepper On Their Baby Registry: 'You Have To Have Caffeine!' Reality Daughter Insists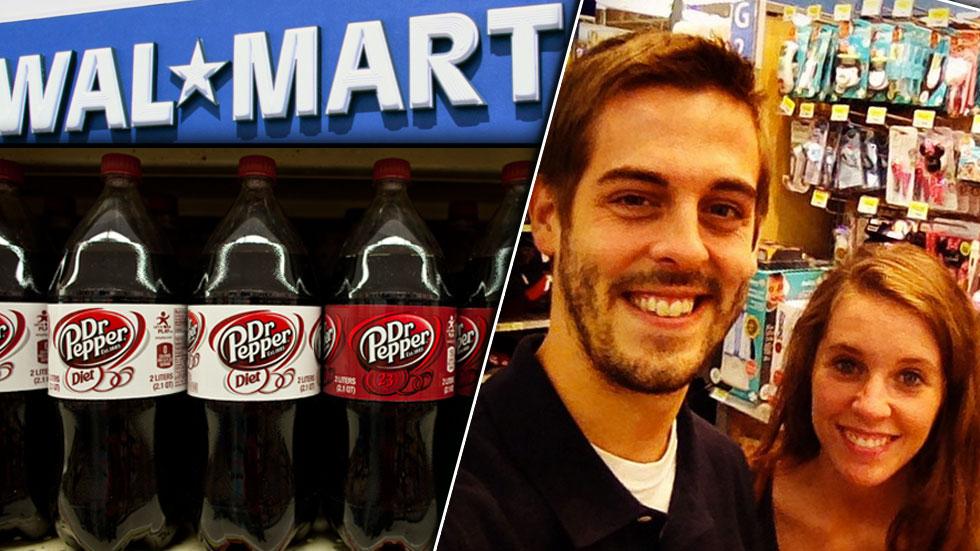 Members of the Duggar family certainly have their own ideas about parenting, but mom-to-be Jill's latest move may be the weirdest yet! The pregnant reality TV daughter and her husband, Derick Dillard, spoke out to defend themselves this week after it was revealed they put Dr. Pepper and other sugary drinks on their baby registry!
19 Kids and Counting stars Duggar, 23, and Dillard, 25, recently created "Baby Dilly's" registry at Walmart – and the soon-to-be parents have insisted that soda is a necessary ingredient for a happy family.
Article continues below advertisement
"Derick said we should put Dr. Pepper on there, because if you have late nights, you have to have caffeine," Duggar, who is due on March 24, reportedly told an interviewer. "And I told him, 'I like Fanta,' so he put that on there and some Gatorade, as well."
On September 14, Duggar and Dillard unveiled a photo of themselves shopping on Instagram with the caption, "Having fun creating our baby registry! Looking forward to "Baby Dilly's" arrival in just 6 months!"
Other than caffeinated soda, items on the young marrieds' list include tuxedo-themed bibs, a three-piece crib bedding set with a vintage floral print, pacifiers, and baby jerseys (one for the Oklahoma State Cowboys — of Derick's home state —and one for the Arkansas Razorbacks to honor the Duggar family's roots).
"We tried to think practical since we don't know what we are having yet," Duggar told People magazine. "I know people are trying to guess, but we don't even know. I came from a large family and my mom used to think – when I'm buying, do I want to go with one theme or be more practical? We are trying to think of gender neutral stuff, trying to think longterm."
Article continues below advertisement
It's not the first time the unassuming pair has surprised the public with low-budget requests. They also put cereal and $8 pillows on their wedding registry.
On Wednesday, Duggar and Dillard Instagrammed a picture of Jill holding a sign next to her baby bump marking 13 weeks, 1 day of pregnancy.
"Officially in our second trimester!" they noted. "Our baby is now the size of a fuzzy sweet Georgia peach!"
As RadarOnline.com readers know,/ the conservative Christians weren't allowed to have sex before their wedding and Duggar became pregnant right after marrying Dillard on June 21. They quickly announced the joyful news.
Duggar said her mom Michelle, 47, the matriarch of 19 Kids and Counting, and Dillard's mom, Cathy, 57, are already loading them up with useful baby gifts, such as car seats.