Jill Duggar Confirms She Had To Have A C-Section After Scary Complications & 70-Hour Labor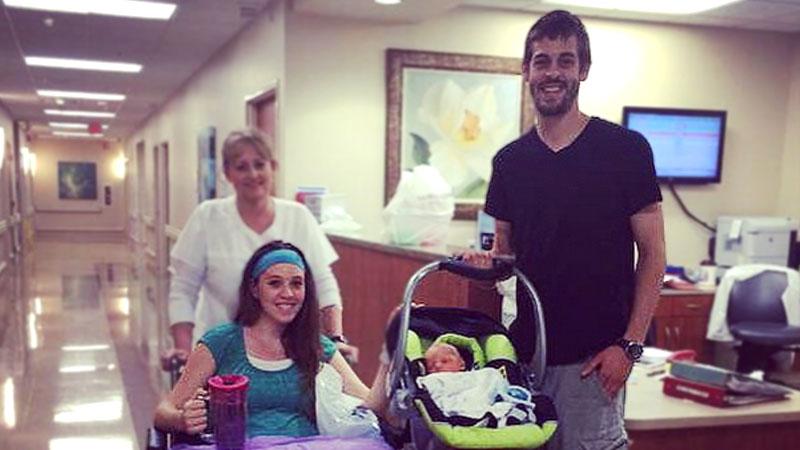 Jill Duggar and her husband Derick Dillard had planned to have their first child at home, but after a series of frightening circumstances the first-time mom had an emergency C-section for her baby Israel David Dillard.
RadarOnline.com reported last week on the growing speculation that Duggar had gone under the knife, and the 19 Kids & Counting star confirmed the dramatic delivery details in an article out Tuesday.
Article continues below advertisement
She spent 20 hours in labor but tested positive for strep B, a bacteria that is common during birth but required her to take antibiotic via an IV, according to People magazine.
She also saw a slight trace of meconium (fetal waste, which can be a sign of distress) and decided to forgo her home birth plan and head to the hospital.
"I was praying to God to give me strength," the first Duggar daughter to give birth said. "I was really scared and nervous, but I was praying."
The 23-year-old tried everything she could to avoid drugs once at the hospital.
Duggar explained that she initially declined the drug Pitocin, which helps induce labor, and pain medication, but the baby turned into a transverse breech position.
Finally after 70 hours of labor, when the fetus was showing irregular heart rates and had not yet descended, the doctors expressed concern for both her health and that of her son.
Article continues below advertisement
So the Duggar and Dillard agreeded hat it was time for a cesarean section.
Jill's own mother, Michelle Duggar, has had 4 C-sections and 13 regular births in a row.
They then safely welcomed their son, Israel David Dillard, at 11:49 pm and he weighed a healthy 9-lb., 10-oz.
Despite the change in plans, Duggar says that she wouldn't change a thing.
"I love our birth story because it bonded us so well," she told the magazine.
"I still haven't changed a single diaper. Derick has been changing them all."