Not The Way They Planned It! Jill Duggar & Derick Dillard Wanted Natural Home Birth, But Baby Son Israel Born Late At Hospital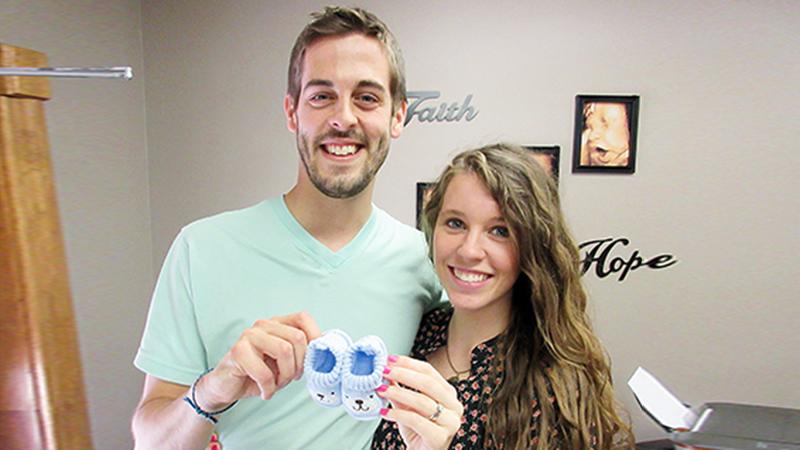 Tuesday's 19 Kids and Counting showed how the home birth plans of new parents Jill Duggar and husband Derick Dillard went completely awry.
Of course, Duggar and Derick Dillard welcomed their baby boy Israel at a hospital -- more than two weeks past his due date -- on Monday night.
On Tuesday, viewers of the TLC reality show saw the Dillards' big preparations as they attended a weekly birthing class.
Jill was then at 25 weeks, and she recalled she was as far along as her mom Michelle when she gave birth prematurely to Jill's little sister Josie, who was born at just 1 pound, 6 ounces and had to be put in an incubator.
Article continues below advertisement
"I went into premature labor because I was having gallbladder pain," Michelle told the cameras.
Jill wanted to do everything she could to avoid a premature birth. As it turned out, she had the opposite problem of an overdue birth -- leading to her delivering the baby in a hospital -- but the episode showed how the Dillards had prepared for a natural, husband-coached birth at their home.
Jill explained they took classes in the Bradley method, which teaches couples how to have babies naturally, with the husband as the main support person.
Cameras showed Dillard practice saying soothingly, "Relax the pelvic floor," and "Good job, honey."
Jill's father Jim Bob noted of the young midwife, "Even though Jill has delivered multiple babies for other people, this is her first baby, so it's very important for the husband to be there and be compassionate, loving, kind all the way through the birth process.
"The husband got the wife pregnant, and it's important for the husband to help deliver the baby!"
Article continues below advertisement
During the class, the couple learned various labor positions but at times Dillard got silly, making Jill laugh instead of focus. That wouldn't work during the actual labor, she pointed out.
"I've been warned," Dillard said.
In the earlier Tuesday night episode, Jill and Dillard were going to find out the sex of their baby at 17 weeks and then have a family "gender reveal" party.
Dillard said they had picked out two Biblical names: Israel for a boy, and Selah for a girl.
"Israel means, 'God will prevail,' and Selah means, 'Pause and reflect,'" Dillard told the cameras.
Jill's siblings Joy Anna, James, and Jennifer went with them as they got an ultrasound and found out they were having a boy.
But on a sad note, Dillard's ill mom Cathy wouldn't be there as she was receiving cancer treatment in Omaha. Dillard sent his brother Dan to deliver the good news in person.
Looking frail and wearing a cap, Cathy had a hunch their child would be a girl, but was still thrilled about learning her first grandchild would be a boy.
Article continues below advertisement
The brave Cathy said the impending birth would "give me all the more motivation to get home" as she batted cancer.
Later, at the party, the Dillards revealed the gender to the others by having the Duggar kids hit a question mark-shaped piñata. Finally, a slew of blue-colored candy fell out.
"This gives us three grandsons and one granddaughter," Jim Bob told Michelle.
Dillard said in confessional, "Some of the things I'm looking forward to the most in having a son is just teaching him how to be a man of God, how to be a diligent worker, how to care for others."
At the end of the episode, TLC aired video of the Dillards with their 9 pound, 10 ounce little boy.
On the second episode, viewers also saw that preparations were being made for newlyweds Jessa Duggar and Ben Seewald to live in Josh and Anna Duggar's old house.
As RadarOnline.com has reported, a previous episode showed the home had a disgusting mold problem -- and Josh said it was only a tiny 960 sq. feet -- but "very homey."
Anna recalled they had used Josh's bathrobe as a curtain to cover the front door in the home because "life got busy."
But Anna sewed a curtain for the house as a gift for Jessa and Ben.
Meanwhile, with Jessa married off, Joy Anna took charge of designating chores for the Duggar kids.
Viewers learned the worst job, assigned to Jeremiah, 16, was cleaning the family's NINE bathrooms.