Seewald's Shocking Stumble: Ben Forgets Jessa Duggar's Ring In '19 Kids And Counting' Wedding Special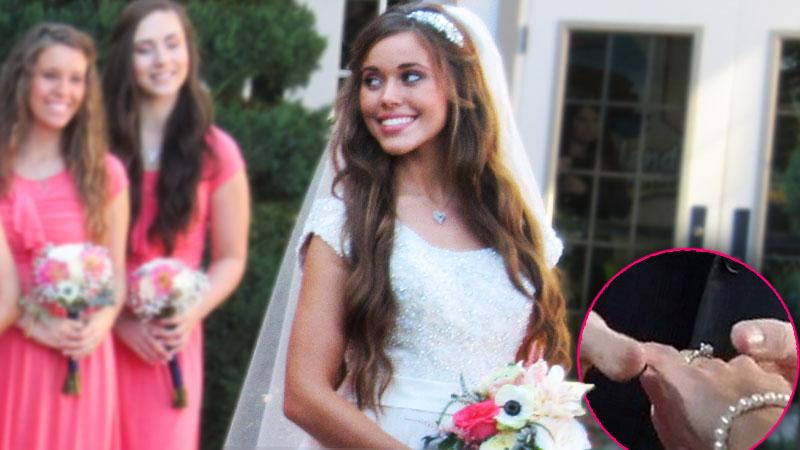 Jessa Duggar's groom Ben Seewald forgot the wedding ring -- and stressed out about their very first kiss -- on Tuesday night's 19 Kids and Counting special, "Jessa's Wedding."
Viewers finally saw what happened when the conservative Christian virgin couple tied the knot on November 1, 2014. Seewald arrived at the Arkansas Baptist Church where they would say their vows, and then admitted to his groomsmen that he'd forgotten something crucial.
Article continues below advertisement
"Don't ask me how, but of all the things I could have forgotten on my wedding day -- the wedding ring," he told the cameras.
However, it was Jim Bob to the rescue.
"It's OK -- Jessa's dad saved the day, picked it up. I told him where it was and he got it," Seewald said about the ring, adding the whole fiasco was "a little bit ridiculous."
Also causing stress was the couple's long-awaited very first kiss, which would occur after they married.
The ultra-religious Duggars don't allow their kids to have premarital sex or even kiss; unmarried couples are only permitted "side hugs."
The day before the wedding, Seewald worried about kissing: "Hopefully I know how to do it right ... I've seen some movies."
Meanwhile, Jessa laughed, "We've been getting a lot of advice from family members; they show us how it's done."
The couple expected an incredible 1,300 wedding guests, and Jessa said it would look similar to sister Jill's (who wed Derick Dillard last year) because they were borrowing a lot of her decorations.
Article continues below advertisement
Viewers saw that Jessa's 11 bridesmaids did wear the coral-colored dresses she had ordered online but her sisters deemed awkward.
On the wedding day, with guests set to arrive at 1 p.m., the kiss was uppermost on Jessa's mind, and she vowed to "take it slow, make it romantic."
And Seewald told the cameras he would "make sure I have my breath mints handy … toothpaste, mouthwash, whatever I can do."
Meanwhile, Dillard helped his very pregnant wife Jill paint her toenails for the ceremony because she no longer could reach them.
Jessa was stunning in her modest blush-colored gown and veil and Jim Bob got teary-eyed.
After everyone shared a last prayer, Seewald strode to the altar in his dark suit and coral bow tie, with his ten groomsmen also in coral bow ties with suspenders.
Jim Bob wiped away a tear as "Here Comes The Bride" started and he walked Jessa down the aisle.
Seeing them, Seewald also got teary-eyed and later said, "I felt kind of breathless ... she was so beautiful."
Article continues below advertisement
Instead of using traditional vows, the couple had prepared their own which they read to each other.
As he placed the diamond ring on her finger, Jessa whispered, "It's gorgeous."
After Pastor Mike Schadt pronounced them husband and wife, the couple walked down the stairs and ran out of the church -- without kissing.
This should come as no surprise to RadarOnline.com readers, as we previously reported Jessa and Seewald wound up sharing their first kiss privately after the wedding instead of at the altar.
On Tuesday's episode, Jessa said, "We exited and then people started realizing, 'Wait a second. Something did not happen that usually happens at the end of a wedding ceremony.'"
The pastor informed the guests, "It was their desire that they would spend this unique and precious time intimately alone.
"I know where they're at but I ain't going to tell ya," he said to the laughter of the crowd. "I can tell you right now they're smooching so the longer I talk the more they can smooch in private. So if I can just have your attention for about three hours."
Article continues below advertisement
As Jim Bob and Michelle laughed, the pastor said, "The first kiss is a long one in private," which the blushing bride later confirmed.
"Our first kiss was nice and slow and romantic, and I'm sure we'll be doing a lot more kissing from here on out," Jessa told the cameras.
Finally, however, they did kiss on camera, very stiffly, for pictures inside the church.
Then Jim Bob said, "I think you need a lesson" and planted a couple on Michelle!
Jessa told her brother Jackson, "The first kiss was WOW!"
"It was the best day of my life," Jessa said as she and Seewald set off on their European honeymoon.