Exclusive
Duggars' Dirty Secret: Josh & Anna Duggar Owe Whopping $14,000 In Unpaid Taxes! Did He LIE About The Debt?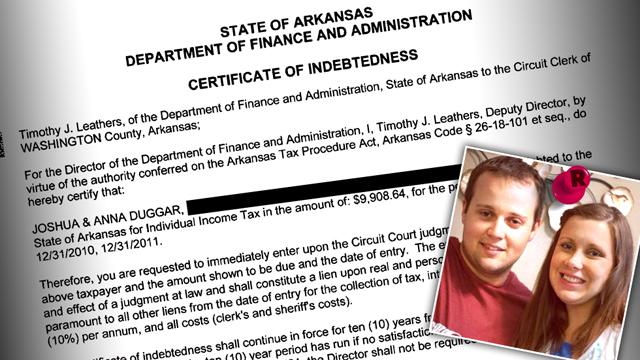 What would daddy Jim Bob — and Jesus — think about this mess?
Though the Duggar patriarch, 49, is staunchly against owing money to anyone, his son Josh, 27, and daughter-in-law Anna, 26, may not follow the same credo. RadarOnline.com can exclusively reveal that the young married couple, who are expecting their fourth child in late summer, owe their home state of Arkansas nearly $14,000 in back taxes, per state records.
Article continues below advertisement
According to Department of Finance and Administration documents obtained by RadarOnline.com, Josh and Anna owe $3,746.20 in unpaid state taxes for 2012, and a whopping $9,908.64 in taxes for 2009, 2010 and 2011.
"The entry shall have the same force and effect of a judgment at law and shall constitute a lien upon a real and personal property of the taxpayer," deputy director Timothy J. Leathers wrote in the official papers.
Even worse than their piling debt, the Jesus-loving, homosexual-hating Josh seems to have lied to fans about their unpaid taxes.
After In Touch reported earlier this week that the 19 Kids And Counting pair owed $3,746.20 to the state of Arkansas, Josh responded that the debt had been paid.
But the Washington County Circuit Court clerk tells RadarOnline.com that the pair hasn't paid off a penny.
"When a lien is paid, the state will send a release of lien to be filed," the clerk explains.
Surely the Bible wouldn't support such a bold-faced fib!
Should Josh come clean about his debt? Sound off in the comments.