Bethenny Frankel Tells 'Slithery' LuAnn De Lesseps 'You Need To Be Checked' After Inviting Former Enemy Kelly Bensimon To Girls' Night Out On 'RHONY'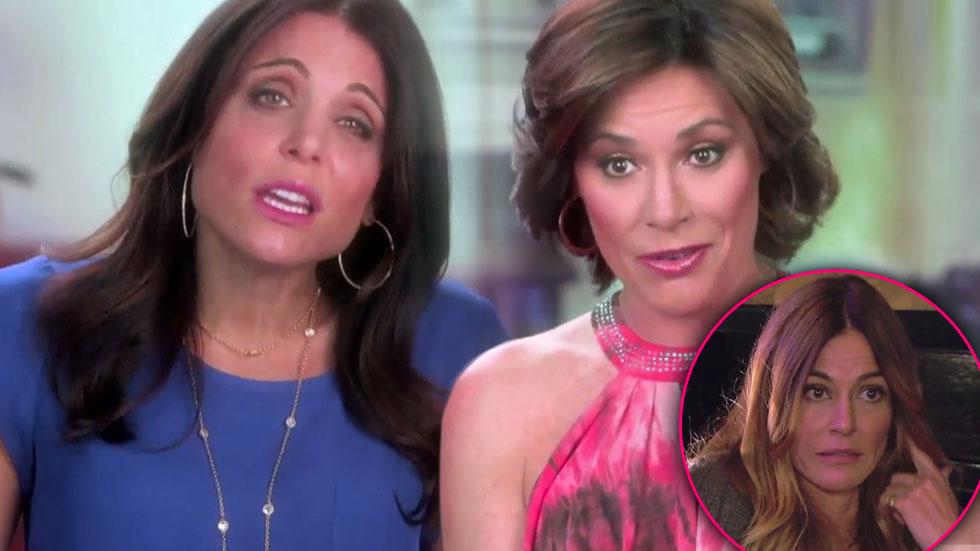 Bethenny Frankel continued to battle with Ramona Singer on this week's episode of the Real Housewives of New York -- but the jabs didn't stop with her.
From firing at LuAnn de Lesseps over Kelly Bensimon's return, to shutting down Heather Thomson, the Skinnygirl mogul isn't playing nice with her cast members!
The drama kicked off when Frankel held a brunch even though Singer already planned one. In an effort to avoid being caught in the middle of the feud, de Lesseps, Thomson, Carole Radziwill and Kristen Taekman decided to attend Frankel's invite first.
Article continues below advertisement
Frankel said of her fight with Singer from the night before, "I don't want to just deal with anybody that I don't want to deal with … I am mad at her for going off the rails, psycho crazy when I invited Sonja to my brunch."
But Singer told a different side of the story at her brunch with Sonja Morgan and Dorinda Medley.
"I went over to say I'm sorry about any misunderstanding and then she bit my head off," Singer explained. "She got very verbally abusive."
After two hours of gossiping with Frankel, the women finally made it to Singer's brunch just as everyone was leaving.
"Ramona is so stupid," Morgan said in her confessional of the last-minute outing. "She never told me about this brunch. We would all be eating together had she planned this a little bit."
When they returned to New York City, Frankel met with de Lesseps and Thomson for lunch to talk about their drama-packed Hamptons trip, but she left with another enemy!
Article continues below advertisement
As Thomson continued to talk about the Frankel and Ramona's fight, the Skinnygirl creator fired, "I'm begging you, can we not? I don't care. None of this is interesting to me. It's way too much conversation about it already, I just don't care."
Although de Lesseps seemed like the only one on Frankel's side, that all changed once the Countess invited former cast member -- and Frankel's enemy! -- Bensimon out for drinks with the women.
"Ugh really? Kelly Bensimon? That's so 2000 and who cares?" Frankel quipped.
When she confronted de Lesseps for intentionally leaving out that Bensimon was invited, the Countess told her to "let go" of their former feud.
"You need to be checked," Frankel said of de Lesseps in her confessional. "You don't invite a person that I was enemies with out to girls' night and not tell me. That really felt like vintage Luann. That was a little slithery."
Article continues below advertisement
Watch the video right here on RadarOnline.com:
Also on RHONY, Singer opened up to de Lesseps about her cheating husband Mario Singer's affair.
"I know a lot of people have great connections and great love and great families, but we had something beyond special," she said. "Everyone who knew us well saw it."
"But what's even worse is how public it is," Singer added of the "nightmare.
"I know I'm putting on a brave face, but it's rather humiliating."
Despite her love for her husband, Singer remains firm in going through with their divorce.
"He flip flops and I don't want a flip flopper," she shared. "He'll say, 'let's have dinner … I still have feelings. I think we should try to work this out and I'm like 'I just can't'. He's in a major midlife crisis."
The Real Housewives of New York airs Tuesdays at 9/8c on Bravo.