Tragic Video: Nick Gordon Caught Drunk On Tape Just 12 Hours Before Dr. Phil Appearance, His 'Horrible Pain'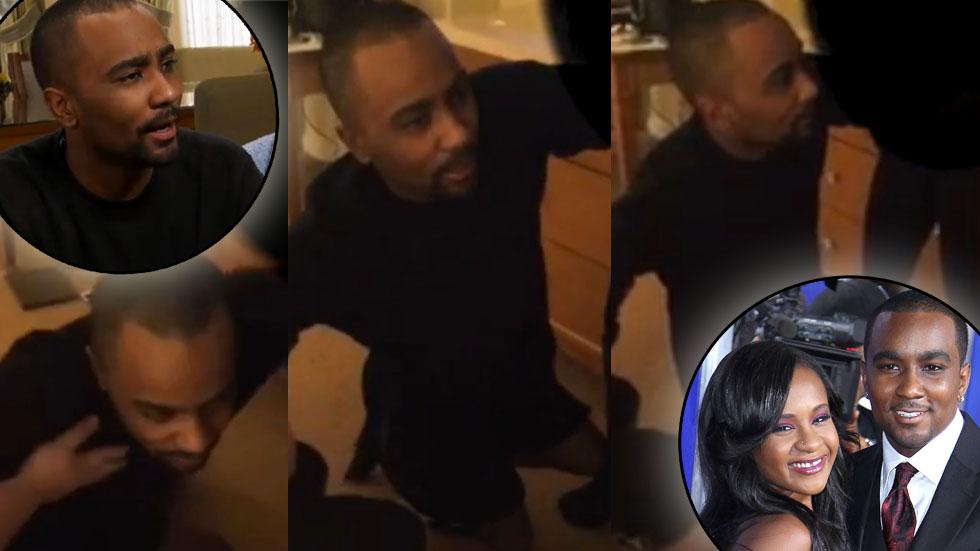 Just 12 hours before his heartbreaking intervention with Dr. Phil, Nick Gordon was caught on tape looking disoriented and possibly under the influence.
In the heartbreaking footage, Gordon, 25, is seen falling down and seemingly drunk. Unidentified individuals then help him to his feet in the Ritz Carlton hotel room in Buckhead, Atlanta.
Bobbi Kristina Brown's so-called husband believed he was to be interviewed by Dr. Phil at the time, and was preparing for a sit-down the following day. He had hoped to clear the air on his side of the story, because – in his eyes – he had been "vilified" and made to be a "monster" by the public.
Article continues below advertisement
According to reports, Dr. Phil could not proceed with the interview "in good conscience" after learning just how severe Gordon's drug and alcohol abuse had been. In the end, he staged an intervention for the young man.
Sadly, Gordon lived up to his reputation, even the night before his supposed interview. The Daily Mail captured an exclusive video of the heartbroken twenty-something just hours before his appearance.
Watch the Video on RadarOnline:
Gordon is visibly unstable during the clip, mumbling and slurring to his comrades as they hoist him up and assist him from the hotel room.
The intervention, airing Wednesday, will reportedly include a distraught Gordon admitting to suicidal thoughts.
When asked if he intended to take his own life, he said: "If anything happens to Krissi I will."
Then added: "My pain is horrible. My heart hurts. I have panic attacks."
Article continues below advertisement
But Brown's family still holds Gordon at arms length. Two days prior, Bobbi Kristina's aunt, Leolah Brown, made serious allegations against Gordon in an volatile Facebook rant: "Nick Gordon is very disrespectful and inconsiderate! Especially to my family. Moreover, he has done things to my niece that I never thought he had in him to do!"
She added: "With all due respect, Nick Gordon is under investigation for the attempted murder of my niece….We have strong evidence of foul play."
Thanks to legal conditions arranged by Bobbi Kristina's father, Bobby Brown, Gordon is still prohibited from visiting his sleeping beauty.
For now, Gordon has checked into rehab.
"We're just waiting for him to get better and we'll go from there," his aunt commented on the matter. "Anytime someone goes to a rehab center it's going to help if they're willing to rehab themselves. We support everything he does and are here for him and eventually his family will see him."