Exclusive
'Let Her Wake Up'—Nick Gordon Begs Bobby Brown To Play Daughter Recording Of His Voice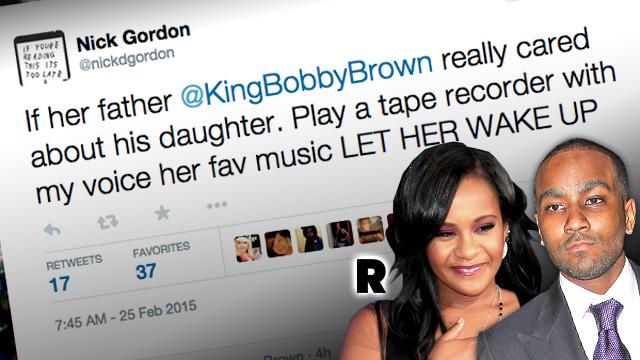 As Nick Gordon's frustration grows over being blocked from Bobbi Kristina Brown's hospital room, he's pleading for her dad to at least let her hear his voice.
On Wednesday Gordon tweeted his latest desperate proposal: "If her father @KingBobbyBrown really cared about his daughter. Play a tape recorder with my voice her fav music LET HER WAKE UP".
It's unlikely Bobby will be receptive to Gordon's request, especially since he followed it up with a nasty tweet: "Bobby is the worst father all of you defend him he is there now but where has he been the last 5 yrs when your ladies needed a shoulder".
Article continues below advertisement
Whitney Houston's 21-year-old daughter has been in a medically induced coma since she was found unresponsive in her bathtub on January 31. Family sources are reporting claiming that she is being slowly removed from the coma to allow doctors to assess her brain damage.
Gordon has admitted that he's "so scared" and that "if anything happens to her I don't know what to do."
Bobby Brown has set conditions for Gordon before he will even consider letting Gordon into his daughter's hospital room, according to sources on both sides. One key requirement is said to be that Gordon must open up to the family and investigators about what happened in the days and hours before the bathtub incident.