Kanine Katastrophe! $100 Million Kardashians Refused To Pay For Montana Dog Sledding Trip, Owner Claims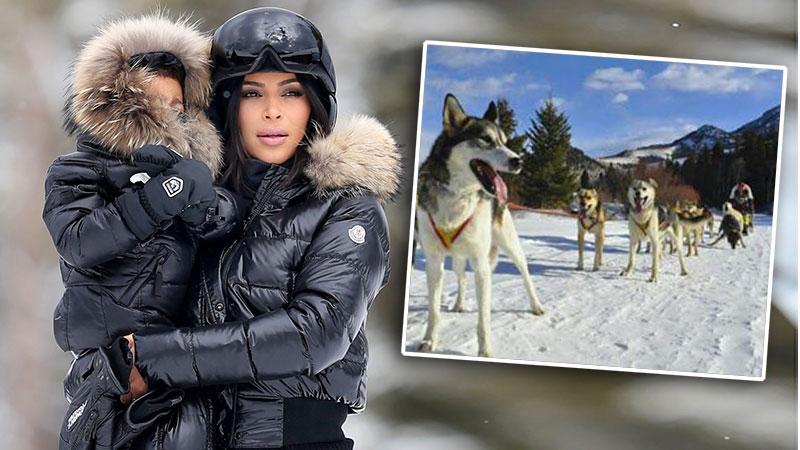 The Kardashians have a hard time traveling anywhere without causing kontroversy!
When Kim, Kourtney, Scott, Khloe and Kylie vacationed in Big Sky, Montana, late last month, they planned several winter weather activities, including a dog sled ride. But according to Yellowstone Dog Sled Adventures owner Jason Matthews, the incredibly wealthy family— who reportedly just made a $100 million deal with the E! network— refused to foot the bill.
Article continues below advertisement
Matthews and the Kardashians' handlers "exchanged several phone calls and emails and scheduled the day," the Bozeman native revealed on Facebook. "But then plans were abruptly canceled when I would not give them our services for free, YES— for FREE!!! They wanted 50 dogs, 5 guides, etc. to work for free."
In an interview with the Bozeman Daily Chronicle, Matthews claimed that the Keeping Up With the Kardashians production release coordinator tried to "trade" exposure on the family's hit reality show for his team's back-breaking work, which would have only set the family back $3,900.
"Look, my dogs don't eat trade," Matthews reportedly told the coordinator, who had requested half-day services for 10 people.
"Glad we didn't do it," he ended his Facebook rant.
Looks like the public agreed. Matthews now has 6,663 likes and hundreds of supportive comments on his public post.
In the comments, he made sure to note that other reality TV filming crews, networks and media outlets were much more generous when they arrived for a sledding trip.
Article continues below advertisement
"We took the cast of Finding Bigfoot dogsledding for an episode of their show, and they never even mentioned "trade or exposure," he wrote. "In fact they wanted to pay full price on everything…plus they fed us from their catering truck and ate lunch with us."
"The New York Times, Animal Planet TV, National Geographic and all other media outlets I have taken dogsledding always paid."
Matthews also implied that a scary car accident involving Khloe, Kim, Kylie and baby North was "Montana karmic justice" for their selfish actions.
Did the Kardashians act out of line? Sound off in the comments.