Exclusive
Divorce Drama! 'Partridge Family' Singer David Cassidy's Estranged Wife Going After His Cash In Bankruptcy Case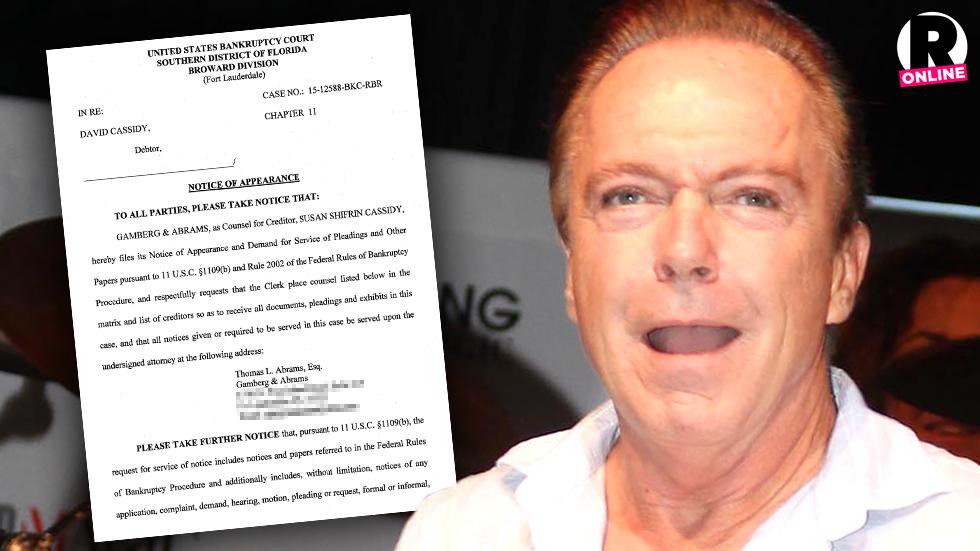 David Cassidy's estranged wife is lining up with other creditors to get a piece the action in the former teen idol's bankruptcy case, according to documents obtained by RadarOnline.com.
The former Partridge Family singer has been going through a nasty divorce from Susan Shifrin Cassidy, his wife of 23 years, since last summer.
But her lawyer recently filed a notice in Cassidy's bankruptcy case demanding that she be considered a creditor and therefore be provided with "all documents, pleadings and exhibits in this case."
Article continues below advertisement
Cassidy, 64, filed for chapter 11 bankruptcy protection last month to stop the financial bleeding after a tough year that included his third drunken driving arrest and . His financial statement says while he earns $12,500 a month, he has expenses of $27,000.
Cassidy's biggest debt is $1.6 million owed on his $3 million South Florida home, which is also at issue in his divorce. He also owes an unsecured debt of $292,000 to Wells Fargo Bank. Several law firms are also listed as creditors, a result of his several legal fights in recent years, including the DUIs and a long battle with Sony over Partridge Family merchandising residuals.