Exclusive
Radar Told You First! Amber Portwood Has Dramatic Run-In With Baby Daddy Gary Shirley's Girlfriend On Camera— Despite 'Teen Mom' Star's Denial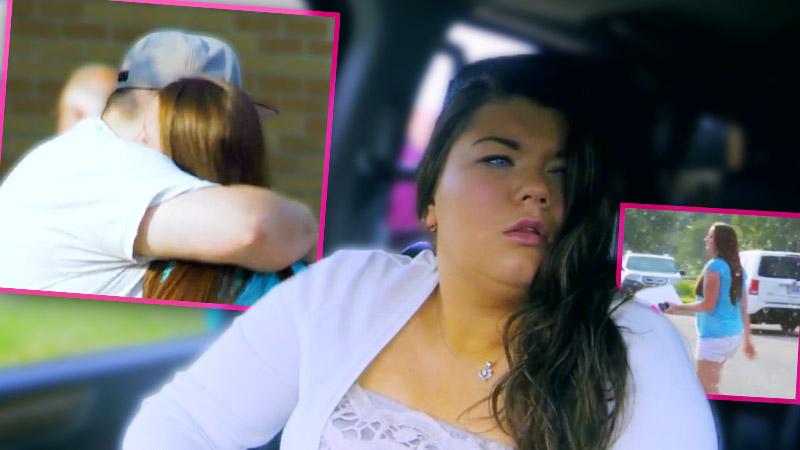 In August, RadarOnline.com exclusively revealed that Teen Mom OG star Amber Portwood and her daughter Leah's father, Gary Shirley, shared a dramatic run-in with his latest girlfriend, Kristina Anderson, at the 6-year-old's elementary school.
The 23-year-old MTV reality mom denied the report, calling the story's whistleblower "ignorant."
But on last night's episode, fans got to see the whole incident play out on camera.
Article continues below advertisement
As Shirley, 27, and Portwood pulled up to drop Leah off at school, the little girl spotted Anderson in the parking lot.
"Oh my god," Portwood muttered.
"Mommy, you have to meet Kristina!" Leah insisted.
"No, I'm not meeting Kristina!" she responded.
Though Portwood initially promised she'd walk Leah into her classroom, she changed her mind after coming across Anderson, 32.
After Shirley walked Leah into school and returned to the car, Portwood seethed in the front seat.
"When I think a day is going to be good, it's ruined," the furious Never Too Late author told Shirley. "Because you just …God!"
She later told a producer to get the "f***ing camera" out of her face.
The episode mirrored Radar's original report.
"Gary and Amber seemed to be having a heated conversation near the car," an onlooker said. "Amber had her arm crossed. She definitely didn't look happy."
Months later, there seems to be peace in the former love triangle. Portwood recently told OKMagazine.com that she is "completely over" her former boyfriend— thanks in part to her new fiancee, Matt Baier, 43.
Article continues below advertisement
"I think Matt helped me get completely over him," she said in the video interview. "It was months before that though that I actually made the decision to not want to have the relationship with Gary anymore. Matt has helped a lot when it comes to both of us actually moving on."
It's a good thing Portwood accepted her ex's relationship with Anderson— because the couple is expecting their first child together any day now.
Do you think Amber and Gary will ever get back together? Sound off in the comments.