'Fashion Police' Fallout: Zendaya Says Controversy Is 'Over,' As Show's Behind-The-Scenes Situation In Chaos Since Death Of Joan Rivers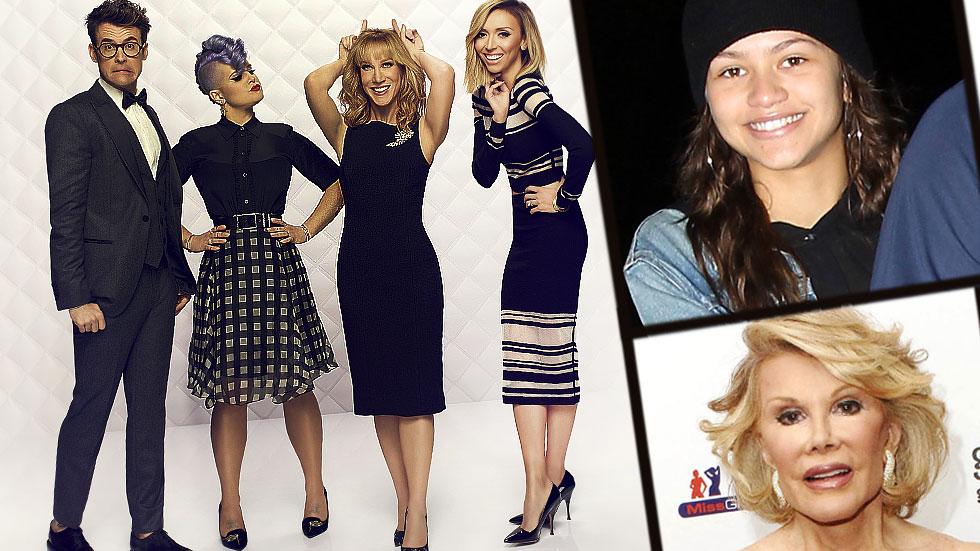 Zendaya had more to say Thursday, as her run-in with Giuliana Rancic has brought out the behind-the-scenes at Fashion Police since Joan Rivers' death.
The Disney star, 18, was spotted with her father Kazembe Coleman in Hollywood Thursday evening, days after she lashed at Rancic for making "disrespectful and outrageously offensive" remarks about her dreadlocked look at the Academy Awards, saying the hairdo made the teen look like she "smells like patchouli oil … or maybe weed."
Article continues below advertisement
After a week-long brouhaha that saw Rancic apologize to Zendaya multiple times -- and Zendaya accept -- the teen wasn't in the mood to prolong the controversy.
Asked about the week's events, she said, "It's over, let's let it go," and stayed mum when asked if she believed the comments were racially-motivated. Ironically, she was not wearing the dreads the scandal revolved around, saying "they were too tight."
While Zendaya might be over it, sources tell the NY Daily News
that the incident has brought to light the numerous political maneuverings that have plagued the E! show since Joan Rivers died last summer.
"Joan kept everyone together," the source said. "When she was there, none of this was happening: They all loved her and looked up to her, but it's all been a power play since she's been gone."
Among the issues, the source said, is that "there's all this money up for grabs;" that Rancic "thinks she's the star of the show now that it's not Joan;" and that Kelly Osbourne's "had an attitude," is "unhappy" and not on the same page with Rivers' replacement, Kathy Griffin.
Article continues below advertisement
"Kelly had a blowout fight with Kathy when she started the show," a separate insider told the paper. "There were words, because Kelly talks about Joan constantly -- which is OK.
"We all love Joan ... but Osbourne would imply Kathy wasn't Joan. Kathy is there to do a job -- she doesn't want to fight with Kelly."
The source added that while Osbourne has been asking for a raise, a "more aggressive" Rancic has lobbied for more money, camera time and producing influence.
"Giuliana feels like she brings a lot to the show," the source said
In related news, the fallout of the Oscar-originating diss has wound up manifesting in a war of words between Osbourne's legendary rocker father Ozzy and Access Hollywood's Billy Bush, who said on the air that he felt Osbourne "threw Rancic under the bus" with her actions since the remark.
Ozzy took to Twitter, writing at Bush, "Stop acting like a b*tch. Act like a man. Lay off Kelly or we'll be going to hospital to get my foot out of your a**. God Bless."
Bush took the jab in stride, joking he needed to book "a proctologist" for the show to take care of "Ozzy's foot."