Exclusive
The Last Straw? 'Fashion Police' Hosts Want Giuliana Rancic Fired Over Zendaya Coleman Comments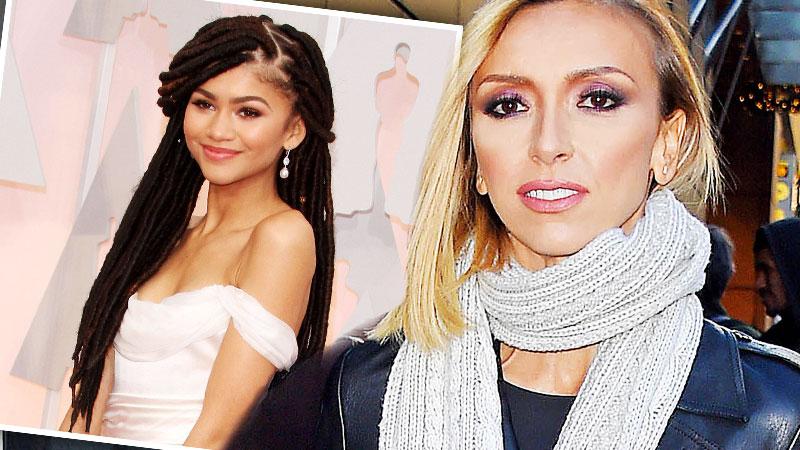 The hosts of E!'s Fashion Police aren't known for playing nice. But after Giuliana Rancic's questionable remarks about Zendaya Coleman, RadarOnline.com has learned, the blowback has been so bad, her co-stars want her fired!
"The entire cast of Fashion Police is done with Giuliana and they are hoping that she will be not only kicked off the show, but also off of the network," an E! insider tells RadarOnline.com.
Article continues below advertisement
Rancic's career has been in limbo lately, as her skinny frame has caused concern with fans, who have said that they will boycott watching if she continues to get air time. And her feud with Maria Menounos has ruffled feathers too. But this could be the last straw.
"The network does not condone racism in any way, shape or form and they know that their reputation is now at stake," the source adds.
It all started on Sunday when the talking head bashed Disney star Coleman's dreadlocks, saying "I feel like she smells like patchouli oil … or maybe weed."
As RadarOnline.com reported, Coleman hit back with a long treatise on her and Instagram pages, saying that "there is a fine line between what is funny and disrespectful," and that she was "in awe" — in a bad way — after hearing the remark, which many commenters deemed racist.
Rancic was quick to offer an apology on Twitter, writing Monday night, "Dear @Zendaya, I'm sorry I offended you and others. I was referring to a bohemian chic look. Had NOTHING to do with race and NEVER would!!!"​
Article continues below advertisement
The criticism only intensified from there, however. And making matters worse for Rancic, it was not only Coleman and her fans who were publicly fuming over the off-color remarks. Her Fashion Police co-host Kelly Osbourne took to her Twitter Tuesday afternoon to reveal that she disagreed with the remarks, and confirm she is considering leaving the show over the conflict.
Osbourne's tweets are just the tip of the iceberg, according to the insider.
"The staff at E! is comprised of many different races and everyone is pi**ed off," the source says. "Giuliana cannot take her words back, regardless of what she tweets or how many times and ways she says she is sorry."
Do you think that Giuliana Rancic should be fired for her comments towards Zendaya Coleman? Let us know in the comments below.
Watch: Giuliana Rancic Apologizes To Zendaya Over Dreadlocks Diss
UPDATE:
A rep for E! tells RadarOnline.com, "This is absolutely untrue. Giuliana is fully supported by the network and Fashion Police."