Exclusive
Kelly Osbourne Wants To Quit 'Fashion Police' Over Giuliana Rancic Scandal: Apology 'Not Good Enough'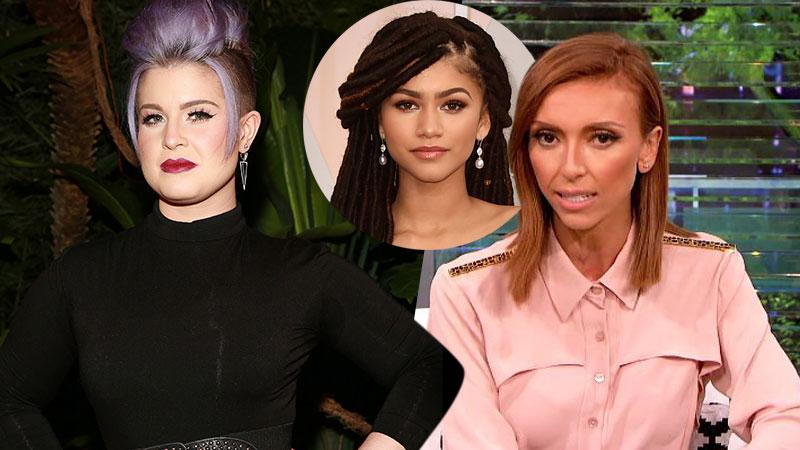 Kelly Osbourne could soon be hanging up her Fashion Police badge. The E! H\host threatened to leave earlier this week over Giuliana Rancic's comments on Zendaya Coleman, but despite Rancic's apology, RadarOnline.com has learned she's insisting the mea culpa was "not good enough" and she wants to go!
Osbourne tweeted that Rancic was "strong" for apologizing, but behind the scenes, "Kelly is stirring up the drama even after Giuliana made the second apology to Zendaya. It just wasn't good enough for Kelly!"
Article continues below advertisement
Making matters worse, "Kelly is still mourning the loss of Joan Rivers. The show just hasn't been fun for Kelly lately, and she wants to quit," the source said. "Joan was the glue that held everyone together and always quelled spats between Giuliana and Kelly."
And according to the insider, E! wouldn't be devastated to see her go.
"Bosses at E! are extremely unhappy with Kelly after she went public on social media venting her displeasure over the Giuliana-Zendaya scandal," said the source. "Even after Giuliana , new details emerged revealing Kelly had warned the panel about saying anything negative about Zendaya because she was a friend of the show. Executive producers suspect Kelly blabbed about it to several reporters and they're not pleased.
The dramatic feud began on Monday, during the Oscars Fashion Police special, when Rancic, 40, was commenting on the 18-year-old singer's dreadlocks and said, "I feel like she smells like patchouli oil … or maybe weed."
Coleman took to her Twitter and Instagram to share her disapproval, slamming Rancic's "ignorant slurs" by saying, "there is a fine line between what is funny and disrespectful."
Chiming in on social media, Osbourne said, "I DO NOT CONDONE RACISM SO AS A RSULT OF THIS IM SERIOUSLY QUESTIONING STAYING ON THE SHOWsic.'
Publicly discussing leaving the show "violates terms of Kelly's contract," said the source. Indeed, Osbourne admitted that in a subsequent tweet.
"By making those comments on Twitter, Kelly only added more fuel to the fire, and did nothing to help the situation. Everyone is betting Kelly will part ways with Fashion Police," the source added.