Shot Across The Bow: Giuliana Rancic Ignored Kelly Osbourne's Warnings About Zendaya 'Weed' Remarks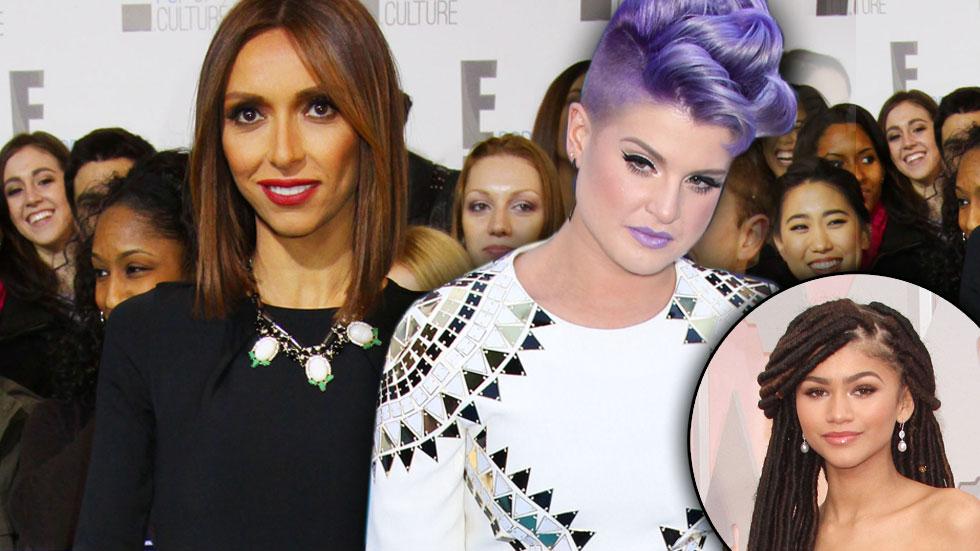 Kelly Osbourne warned Giuliana Rancic about her potentially-offensive Zendaya remarks in the fateful Fashion Police segment that's put the E! host's career in crisis mode.
As RadarOnline.com previously reported, the celebrity journalist is on the ropes, after Disney star Zendaya lashed out at her for the "disrespectful and outrageously offensive" remarks that her dreadlocked look at the Academy Awards gave her the impression that the teen "smells like patchouli oil … or maybe weed."
Article continues below advertisement
While Zendaya went on to accept Rancic's multiple apologies, the racially-charged incident has caused enough of a stir that Rancic's gig with the network could be in jeopardy.
Osbourne questioned the nature of the comments as they were made, leading to "three different takes" of the segment in question, a show insider told US Weekly Wednesday.
"They did the Zendaya segment three times," the insider said. "On the first two takes, Kelly said 'Guys, we can't say this,' Zendaya is a friend of the show,'" noting that she's made multiple appearances on the E! program.
Even with Osbourne's warnings, Rancic made references to patchouli oil and every time, in front of a studio audience of about 30 people that "heard the three takes." (A network spokesperson denied the report, saying that the segment was filmed in one take, but conceded that Osbourne spoke up after the remark was made to "let the group know Zendaya is a friend of hers.")
The insider went on to say that "Kelly respects Giuliana and knows she didn't intend the comment to be racist," a notion supported by a tweet Osbourne sent Wednesday that tried to make both parties look good.
Article continues below advertisement
"It takes a strong women to apologize & makes a forgiving women even stronger! #ThisTooShallPass," she wrote.
In related news, Melissa Rivers, daughter of the show's late host Joan Rivers, got in on the act Wednesday, posting an shot of Zendaya hugging her late mother.
"#TBT We @e_FashionPolice have nothing but love for @Zendaya then and now," Melissa wrote. "A repeat guest host. #MelRivers #JoanRivers"
https://instagram.com/p/ziwcmAjvaL/?modal=true
Readers, do you think this controversy will blow over, or will this haunt Giuliana throughout her career? Let us know in comments.