Exclusive
'Major Cover-Up!' Jeffrey Epstein 'Sex Slave' Accuses FBI Of Protecting The Pedophile, 'Stopping A Prosecution'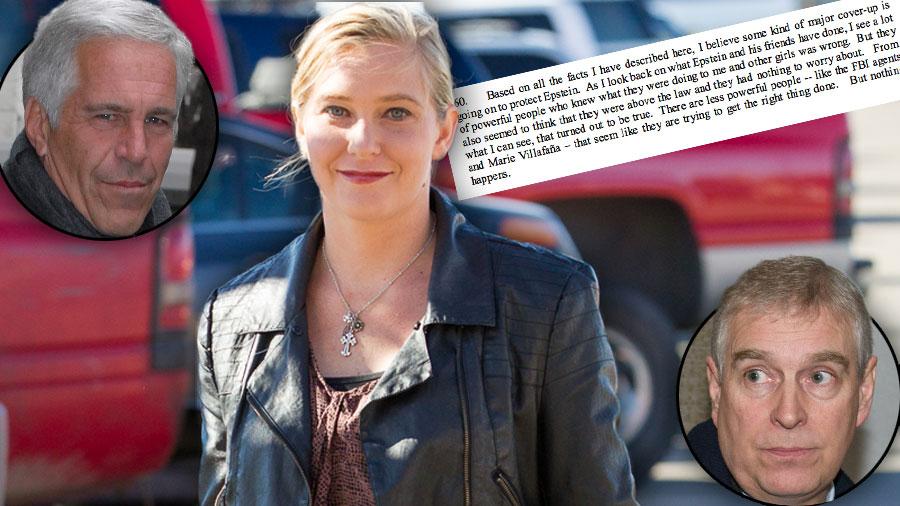 More than 12 years after "sex slave" Virginia Roberts escaped her alleged captor, Jeffrey Epstein, the young woman believes that justice has yet to be served. And according to a new court-filed declaration obtained by RadarOnline.com, Roberts claims there is a "major cover-up" at high levels of the U.S. Government that has kept Epstein — and other high-powered cohorts like Prince Andrew — from being fully prosecuted!
Article continues below advertisement
"Based on all the facts I have here, I believe some kind of major cover-up is going on to protect Epstein," she stated in a declaration obtained by RadarOnline.com.
Epstein previously served 13 months in prison after pleading guilty to minimal state charges, after reaching a sweetheart plea deal with the U.S. Government. Roberts and three other women are now suing to get that non-prosecution agreement invalidated, so that they can go after Epstein and his co-conspirators. They claim the government did not advise them of the plea deal before an agreement was reached. And all along, Roberts claims, her efforts to bring him and others to justice have been stymied.
"Because nothing is being done, it makes me think Epstein was right when he told me he had so many people in his pocket. Maybe those people are still helping him escape being prosecuted for what he did against me," she said.
As RadarOnline.com previously reported, Roberts has claimed Epstein organized a system of blackmail to keep wealthy pals in his thrall. He and alleged madame Ghislaine Maxwell "also got girls for Epstein's powerful friends and acquaintances," she claimed in the new filing. "Epstein specifically told me that the reason for him doing this was so that they would 'owe him,' they would 'be in his pocket,' and he would 'have something on them.' Epstein used to brag a lot to me about the important people that owed him favors."
Article continues below advertisement
"Epstein said that he knew people that were very powerful and who were politically involved, and that consequently he was someone you didn't want to mess with," she claimed.
What's more, the declaration alleges, "Epstein also apparently paid to get protection from authorities. For example, Epstein told me that he paid a substantial 'donation' to the Palm Beach police every year to keep their mouths shut' about his captivities. I do not know if this claim is true, but it certainly added to my fear."
"Epstein arranged for many politically powerful, older men to have sex with underage girls, including me," she alleged. "Because these were crimes and because some of these men were married — this gave Epstein the ability to blackmail these men and obtain political and other favors. I believe that Epstein's connections and his ability to blackmail these other powerful people could have helped Epstein seek a plea bargain from the authorities that kept him out of prison. I also believe that these connections most likely have prevented him from being arrested in the other locations where he has committed similar offenses."
Article continues below advertisement
Despite her cooperation with the authorities over the years, Roberts claimed, "my feeling was once the agents collected information about crimes committed against me, someone else stepped in and blocked them from getting charges filed."
"I have never been able to figure out who was (and still is) stopping a prosecution. …" she stated. "To me, this is further verification of Epstein's power, which continues to make me very scared."
"I want Epstein and the others who committed crimes against me to be punished fairly," she said.
But she admitted, "I wonder where this is going to go if the United states government is not on my side."
As RadarOnline.com has reported, Roberts has accused Epstein, Prince Andrew, and legal powerhouse Alan Dershowitz of having sex with her while underage over her years trapped in Epstein's debaucherous inner circle. The men strongly deny the claims.