The End Is Near! Jury Gets Jodi Arias Death Penalty Case After Dramatic Closing — Verdict To Be Broadcast Live!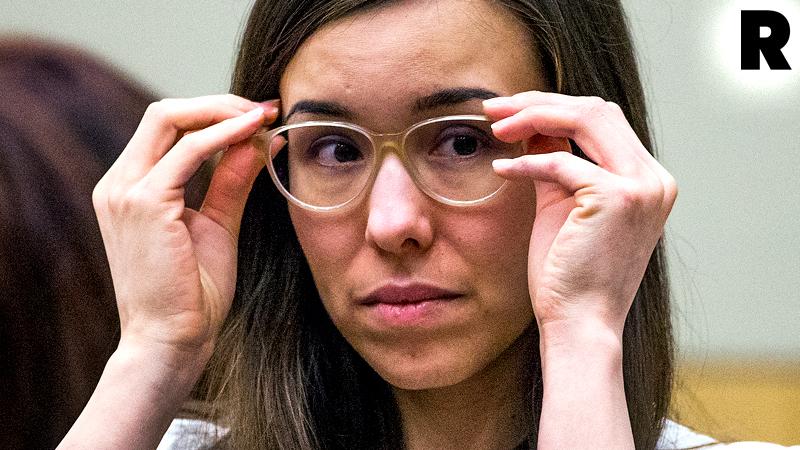 A trial full of jaw-dropping twists and turns came to an appropriately dramatic end Tuesday as defense lawyer Kirk Nurmi pointed to a photo of a young Jodi Arias and told jurors in her death penalty retrial "If you sentence Ms. Arias to death, you're killing this girl! You're killing this girl!"
Prosecutor Juan Martinez followed with his own fireworks, showing jurors a photo of Travis Alexander's slit throat, noting that Arias stabbed her ex-boyfriend 27 times as he was dying. "He did suffer!" Juan exclaimed. "He was conscious. He was in pain!"
Article continues below advertisement
Twelve jurors who sat through a slow-moving and oft-interrupted trial that spanned four months will begin deliberating Wednesday on the question of if Arias should spend the rest of her life in an Arizona prison or be put to death but the state.
Arias' lawyers must convince enough of the jury that there are mitigating factors that would justify not executing her from the brutal killing of Alexander. She was born with an abnormal brain, sexually abused as a child, suffered a "borderline personality disorder" and was out on the streets by age 17, Nurmi told them. "When a girl leaves home at age 17 before graduating high school, it's proof that she was an abused child," he argued.
Alexander manipulated Arias, never giving her the love she craved, but instead seeing her as a sex toy, the defense argued. He "calls her a slut, calls her soul-less, calls her a three-hole wonder," Nurmi said, arguing that Arias crumbled under the negative comments.
Arias has had peaceful break ups with all of her other boyfriends, he claimed, asking, "Why did this one end this way? Something was different."
Article continues below advertisement
The reason? Alexander was talking to several women and looking at pornography, he said: "He had an intense sexual motivation that was manifesting itself."
Nurmi read from the transcript of Arias' testimony — delivered out of public view in a sealed courtroom — in which she told jurors it took her two years for her to realize what she had done to Alexander. "It was so horrific that she couldn't imagine doing that to another human being," Nurmi said.
Meanwhile, prosecutor Martinez mocked Arias and her lawyer for their weak defense, countering with the gruesome photo of Alexander's wounds — and arguing that she never apologized. Instead, she made up "horrible allegations" about Alexander being a pedophile.
Martinez closed on an emotional note, reminding jurors of Alexander's sister Tanisha Sorenson's testimony saying she wished that she could her her brother's voice again — but she can't because of Arias. The sister, who was in the courtroom watching, began sobbing.
While the cameras have been barred for the death penalty retrial, the judge did announce at the end of closing arguments that she will allow the reading of the verdict to be broadcast live.