Jodi Arias Retrial: Sickening Stream Of Travis Alexander Murder Images Continue, Horrifying Relatives Present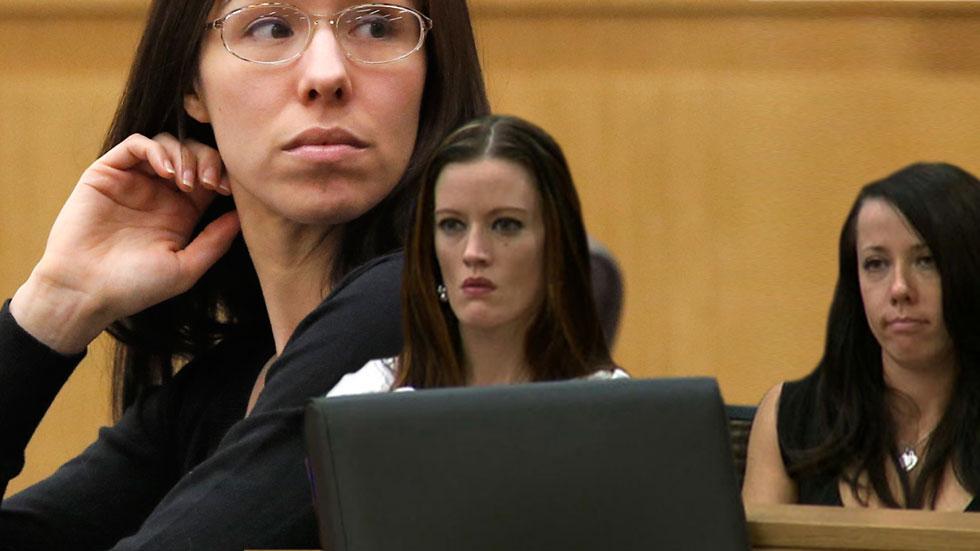 The retrial of Jodi Arias is picking up where the original left off — full of graphic images and anecdotes about the murder victim, Travis Alexander.
During Wednesday's session, the second in the retrial, Alexander's sisters could only bow their heads while the jury was shown a full frontal autopsy photo of their brother's mutilated, naked body after Arias, 34, stabbed and shot her then-boyfriend in June 2008 in Mesa, AZ.
Article continues below advertisement
Kicking off the day, members from both families were in attendance, seated on opposing sides for the tense proceedings, Mike Watkiss of Arizona's 3TV reported.
Watkiss said that lingering tension between prosecutor Juan Martinez and Arias' head lawyer Kirk Nurmi manifested again, out of sight of the jury, manifesting itself in an "angry face-off," with Nurmi asking for a mistrial.
The prosecution's first witness was Dr. Kevin Horn, a forensics pathologist who performed the autopsy on Alexander, explaining a series of gruesome evidence photos of the victim.
Among the images shown to the jury — which caused the Alexander's sisters to turn their heads in horror — included what Watkiss dubbed a "startling, powerful & impactful" image of Alexander's face; his maimed hand, with part of his thumb chopped off in what Horn dubbed a "defensive wound;" and a full body shot.
The evidence only kept getting more brutal, Watkiss said, as prosecutors reviewed a "series of autopsy photos of every inch of Alexander's butchered body" and a set of "tight shots on Alexander's deeply slit throat."
Article continues below advertisement
Reporter Jen Wood, also present for the proceedings, called the cut Arias applied to Alexander's throat "an extremely large gap and … just shocking."
Horn testified that Arias left "no hesitation marks" in her victim's throat, as "it was one clean cut," according to Wood.
Even more horrifying, was Horn's testimony that "Alexander experienced pain from all of these wounds."
In Tuesday's opening volley in the retrial, jurors heard testimony from a former Mesa Police Department detective and a computer forensic expert, with similarly graphic displays.
As RadarOnline.com reported, Arias, a waitress-photographer by trade, was convicted of first-degree murder in May 2013 after a trial that captivated America's attention with salacious details of sex, obsession and violence.
After the first jury was split, the current one will decide if Arias is executed, or will spend life behind bars.
RadarOnline.com will provide in-depth coverage of Arias' penalty retrial, which experts predict will last through mid-December.