No More Legal Tricks! Jodi Arias WILL Face Death Penalty In Sentencing For Brutal Murder Of Travis Alexander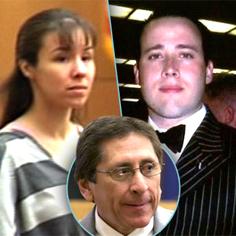 Jodi Arias WILL face the death penalty for the brutal murder of her ex-boyfriend and despite her desperate legal maneuvers in an Arizona courtroom the judge has denied her request to take that sentencing option off of the table.
The convicted killer appeared in the Maricopa court for a hearing that was closed to the public on Thursday morning, the sixth anniversary of Travis Alexander's death.
Arias was found guilty of first degree murder by a jury after her trial where prosecutors presented evidence that she stabbed him 29 times, shot him in the face and slit his throat from ear to ear, but they were unable to come to a unanimous decision on her sentence so that decision will be decided by a future jury Judge Sherry Stephens recently ruled.
Article continues below advertisement
Arias' attorneys tried to argue that because a defense aide was banned from visiting arias in jail that the defense team was unable to prepare for the sentencing phase of the trial that will begin in September.
Maria De La Rosa was banned from the Estrella jail after she took a drawing made by Arias out of the women's correctional center. But Judge Stephens ruled that the actions did not affect her defense team and the death penalty is still an option the jury may consider.The judge also ruled that the proceedings will not be broadcast live but will be recorded. The penalty phase can be recorded but the tapes will not be available until after the verdict is rendered.
However, she reserved the right to reverse her decision and ruled that if she changes the ruling a live broadcast would be delayed 15 minutes.
Arias' trial is set to begin on September 8.